London 2012: Boris Johnson warns of transport problems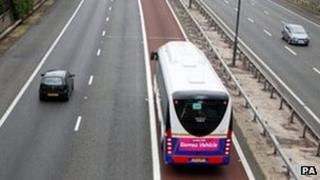 The Mayor of London has admitted that "things will go wrong" with transport during the Olympics.
Boris Johnson spoke out after reported problems with Olympic lanes and bus drivers got lost during the first day of athletes arriving in the city.
Mr Johnson said staging the Games was a "ginormous" task but claimed the first arrivals had gone smoothly.
He disputed the reported four hours it took one athletes' bus to reach the Olympic Village from Heathrow airport.
The mayor claimed the true time was two-and-a-half hours.
The delay has been blamed on a bus driver becoming lost.
Mr Johnson added that journey times from Heathrow could come down to around one hour and said athletes were "bowled over" by facilities in the village.
Mr Johnson said: "At the moment things are going very, very well.
"There will be imperfections, there will be things going wrong.
"But this is a ginormous operation."
He went on: "Members of the public do seem to be heeding our message to avoid London if possible.
"Yesterday, traffic in the morning was about 9.3% down and it was down by about 9% in the evening.
"My information is that no fines for entering the M4 Games Lane were issued yesterday, so it is working well and people are respecting it."
On Monday, two-time 400m hurdles world champion Kerron Clement claimed on the website Twitter that his coach to the Athletes' village had become lost for four hours.
The American tweeted: "Um, so we've been lost on the road for 4hrs. Not a good first impression London."