Jimmy Mubenga deportation death: No charges brought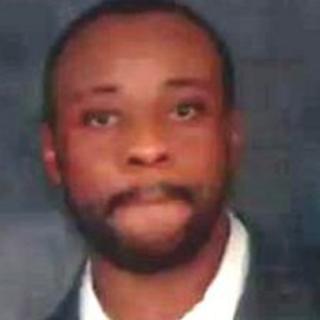 There is not enough evidence to charge anyone over the death of an Angolan man who collapsed while being deported, the Crown Prosecution Service has said.
Jimmy Mubenga, 46, collapsed while being restrained on a British Airways flight preparing to leave Heathrow Airport for Angola on 12 October 2010.
The three guards who escorted him, employed by private security firm G4S, will face no action, the CPS said.
The deaths in custody charity Inquest described the ruling as "shameful".
Mr Mubenga, a father of five, was pronounced dead shortly after being taken to hospital.
He was found to have died from cardiorespiratory collapse.
Gaon Hart, Senior Crown Advocate, said: "After very careful consideration of all the evidence, and consultation with medical experts and experienced counsel, I have concluded that there is insufficient evidence to bring any charges for Mr Mubenga's death."
The three security guards, Terence Hughes, Stuart Tribelnig and Colin Kaler, were arrested in October 2010 and released on police bail.
'No clear picture'
Mr Hart said a gross negligence manslaughter case could not be made against them because it needed to be "specifically proved that Mr Mubenga was held in a 'severely splinted position'... for a sufficient period of time to show that it was the actions of the security guards - and nothing else - which was the more than a minimal cause of Mr Mubenga's death".
He added: "No witness had an unrestricted or uninterrupted view of what happened, and there is no overall clear picture of what happened in that key window of time."
Mr Hart also said there were no grounds to prosecute G4S for corporate manslaughter, although experts had suggested there were shortcomings in the training given to staff about the causes of asphyxiation.
However he said the procedures used were those recommended by the UK Border Agency and National Offender Management Service.
'Legal limbo'
Alex Preston, solicitor for the three guards, said: "Mr Mubenga's death was a tragedy. My clients have always recognised how keenly that tragedy has been felt by his family, too."
Ms Preston added her clients had endured 21 months "in legal limbo" and were relieved the criminal investigation was "finally over".
Deborah Coles, from Inquest, said: "Yet again, there is a failure of the state to prosecute following the use of force.
"This is a shameful decision that flies in the face of the evidence about the dangerous use of force used against people being forcibly removed, and the knowledge base that existed within G4S and the Home Office about the dangers of restraint techniques."