Bob Crow's libel claim against Boris Johnson dismissed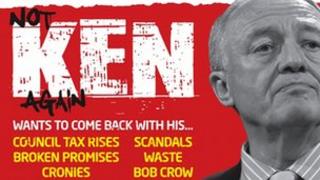 A libel claim brought against London Mayor Boris Johnson by a union boss has been thrown out by the High Court.
General secretary of the Rail, Maritime and Transport Workers (RMT) union Bob Crow had complained about Mr Johnson's re-election campaign leaflets.
He said they alleged his policies and RMT leadership had damaged Labour's Ken Livingstone's chances for re-election.
But Mr Justice Tugendhat ruled the claims were not capable of being defamatory.
He said it was plain that whether or not an association with Mr Crow would tend to damage Mr Livingstone's prospects, or mean that Mr Livingstone would be likely to harm Londoners' interests, must depend on the political views of the reader.
He said readers of the leaflet should understand that it would contain negative connotations for the electorate.
'Right thinking people'
"But whether words are defamatory, or merely insulting, or not even that, does not depend upon the intention of the publisher. The test is the understanding of the reasonable reader.
"In this case the reasonable reader will be a Londoner, and the views of Londoners at that election were divided. There were a number of candidates at this election, as on previous elections.
"And as everyone knows, whether or not Mr Livingstone ought to be elected as mayor of London was not a question upon which it could be said there was a right or a wrong answer which all right thinking people should give."
He added that in an election, statements made about candidates and their associations were "not capable of being understood as anything other than partisan".
"In the present case it cannot be said that right thinking members of society generally could understand the partisan statements in the leaflets complained of as adversely affecting Mr Crow in their estimation," he ruled.