Met Police internal racism allegations treble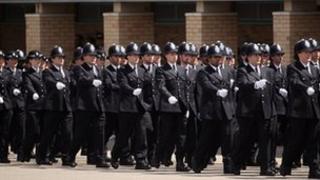 Allegations of racism made within the Metropolitan Police have nearly trebled over five years.
Forty-two allegations were made in the year 2011-12, up from 16 in 2006-07, the Met has revealed following a Freedom of Information request.
The figures specifically cover internal complaints by officers about officers.
The Black Police Association said it was a growing issue but in a statement the force said racism would not be tolerated.
Of the 42 allegations made in 2011-12, investigations into 31 cases were ongoing, seven were found to be unsubstantiated, three were substantiated and one resulted in retirement or resignation, the figures showed.
'Growing confidence'
Met Commander Peter Spindler said: "The increase seen reflects the growing confidence of our staff in reporting internal matters that we deal with through our misconduct proceedings.
"These do not arise from public complaints but from staff feeling sufficiently confident to report these issues themselves."
Supt Leroy Logan, of the Black Police Association, said: "Racism within the Met is clearly a growing, serious issue."
He said the figures were no surprise.
"The Met needs to get a grip, which it has failed to do over the last few years," he said.
But he said Met Commissioner Bernard Hogan-Howe had recognised that need.
In addition to the internal complaints, a total of 444 allegations of racist behaviour were made by members of the public against Met employees in 2011-12, an increase on figures from a decade earlier, but substantially down from the 750 allegations made in 2008-09.
Police watchdog
In April, it was announced that all complaints of racism against Met officers would be automatically referred to the police watchdog, the Independent Police Complaints Commission (IPCC).
The IPCC said it would also conduct a "thematic review" of past and current cases to identify any trends.
The IPCC has told the BBC that 60 referrals were received from the Met regarding complaints of racism in April and May this year.
The watchdog is conducting five independent investigations into alleged racist behaviour by Met officers, which involved:
Language used against a 21-year-old man
An alleged assault involving a 15-year-old boy at Forest Gate police station, in east London
Comments made within a group of Met officers
A public complaint involving alleged racial abuse
An incident at Forest Gate police station involving allegations of racial abuse and excessive force in custody.
Cdr Spindler said: "We will always take robust action when any such matters are brought to our attention.
"Our officers and staff are expected to maintain the highest standards of behaviour both on and off duty and racism will not be tolerated."
In May, London Mayor Boris Johnson ordered a review of anti-racism reforms within the Met.
Changes under scrutiny include opening top positions to people from diverse backgrounds, even when they have not worked as constables.
Latest figures show that by April 2012, 10% of officers were of black or ethnic minority origin, up from 8% in April 2007.
But this compares with 40% of London's population being from these groups.
When Mr Hogan-Howe launched the review, he said the force was committed to stamping out discrimination.
He said the Met would deal with racism "robustly wherever it occurs".
The findings of the anti-racism review will be reported in the autumn.