South London Healthcare NHS Trust put into administration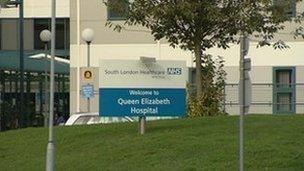 South London Healthcare NHS Trust is to be put into administration after it ran into financial trouble, the government has announced.
Health Secretary Andrew Lansley has appointed a trust special administrator to go into the trust.
Mr Lansley said: "Past efforts have not succeeded in putting the South London Healthcare Trust on a sustainable path."
The trust has run up debts of more than £150m since being created in 2009.
It is the first time an NHS trust has been put into administration.
The trust was created by merging three hospitals - the Princess Royal in Orpington, Queen Mary's in Sidcup and the Queen Elizabeth in Woolwich - and serves more than one million people.
Last year it finished £69m in deficit on a turnover of £424m.
As well as struggling financially, the trust also has some of the longest waiting times for operations and longer-than-average waits in A&E. However, it has low infection and death rates.
If a decision was made to break up the trust, it would not necessarily mean the closure of all services.
Another more successful NHS organisation or private provider could end up taking some on.
But for that to happen, there would need to be a formal process of review and consultation.
Mr Lansley said the decision to put the trust into administration followed a recent statutory consultation with the trust board, the strategic health authority and local NHS commissioners.
Matthew Kershaw, who works as the national director for provider delivery at the Department of Health, has been appointed as special administrator.
His role will take effect from 16 July and he will "assume full control" of the trust, replacing the functions of the trust's board and "assuming the role of the accountable officer", the health secretary said.
Mr Lansley added: "At this point, and pending the outcome of the regime, the chair and directors are suspended from their board duties in accordance with the legislation.
"However, some of the executive and non-executive directors will support the trust special administrator in the work he leads during the regime."
Mr Kershaw will examine the long-standing difficulties at the trust before publishing a draft report on 29 October.
This will be followed by a month-long consultation with staff, patients and the public.
A final report will be submitted to Mr Lansley in January 2013.
Mr Kershaw said: "My priority is to work with staff, patients, the public and all those involved in healthcare services in the south-east London area to maintain high quality, effective services during the running of the Unsustainable Provider Regime.
"Together we will need to think differently, be bold and accept that change needs to happen. The status quo is not sustainable."
Mr Lansley added: "This will be a big challenge and my key objective for all NHS trusts is to ensure they deliver high-quality services to patients that are clinically and financially sustainable for the long term.
"Although there have been some improvements in mortality rates, maternity services and infection control, and some early signs of improvements in waiting times, they do not go far enough.
"It will be impossible for South London to build on these improvements while tackling such a large deficit."
Sue Slipman, chief executive of the Foundation Trust Network, a trade association which represents NHS trusts, said: "All eyes will be on the process which, if it works as intended, will resolve the situation swiftly and ensure there is minimum disruption to patient care while allowing services to be delivered more efficiently."
Related Internet Links
The BBC is not responsible for the content of external sites.