London 2012: Missile tower block tenants drop legal bid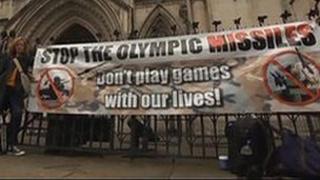 Residents of a tower block in east London where surface-to-air missiles are being stationed for the Olympics have dropped their legal case.
On Tuesday, the High Court ruled in favour of the Ministry of Defence's (MOD) move to set up missiles.
Solicitors for the tenants of the Fred Wigg Tower said their clients could not afford to appeal against the court's decision.
The residents now intend to have the matter raised in Parliament.
They met Leyton and Wanstead MP John Cryer and John McDonnell, MP for Hayes and Harlington, to take up the issue by laying down an early day motion in Parliament.
'Deeply disappointed'
Mr Justice Haddon-Cave turned down a petition by 86 council tenants of the 15-storey block in Leytonstone, saying he agreed with the MoD that a tower block was the only suitable site for missiles, and the facts of the case were "not susceptible to a sensible challenge".
Martin Howe, who represents the tenants, said the residents were "deeply disappointed" by the ruling.
He added: "They do not have deep pockets to fund litigation and although their legal team will not charge them a penny they cannot take the risk of appealing and facing a huge legal bill from the government.
"Requests to the government's lawyers to limit their costs to allow a matter of significant national importance to be litigated in our highest courts was rejected.
"They look to parliamentarians to come to their aid and they look to family and friends to give them safe haven during the course of the deployment.
"They cannot afford to seek alternative accommodation without MOD help which has been absolutely refused."
In their bid to secure an injunction the local residents' association accused the defence secretary of breaching Article 8 and Article 1 of Protocol 1 of the European Convention on Human Rights, which protect an individual's right to a private life and peaceful enjoyment of their home.
They also said that the MoD failed to carry out an equality impact assessment to take into account the needs of disabled residents.
But the High Court judge said the MoD had no duty to consult, had not promised to and no "conspicuous unfairness" was caused by not consulting.
The MoD has identified six sites in London where missiles will be deployed to protect Olympics venues.