London 2012: Offer could end Games bus strike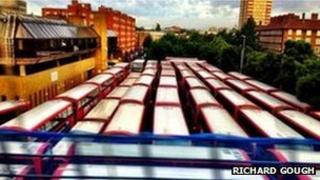 Bus workers in London demanding a bonus for working during the Olympics have been made an offer, raising hopes that strike action could be averted.
The deal was offered after six days of talks between 20 bus companies and the Unite union.
Staff, who want a £500 bonus, walked out for 24 hours last month and were planning to strike again on 24 July.
The conciliation service Acas said Unite would put the details of the offer to workers on Tuesday.
John Woods, deputy chief conciliator at Acas, said: "Following six days of negotiations Acas talks between the London bus companies and Unite have reached a conclusion.
"An offer has been made, the details of which Unite will be reporting back to its representatives tomorrow. The details of the offer remain confidential until this time."
Earlier this month the union suspended a strike which was due to take place on 5 July after negotiations between both sides began.
Unite wants a bonus for each of its 21,000 members for working during the Games, pointing out that other transport workers have been promised extra payments for additional work entailed during the Olympics.
During the talks bus companies offered a bonus of £583 to drivers working 24 of the 29 days that the Games are on, or £700 for drivers in busy garages, but the discussions continued.
Transport for London (TfL) also said it would split extra revenue from the Games half and half with bus operating companies on the condition it was passed on to bus staff.
Deals have previously been announced giving workers at Heathrow Express £700, Network Rail £500, Docklands Light Railway £900, London Overground £600 and London Underground at least £850, said Unite.
Unite estimates it would cost £14m to provide a £500 bonus for every bus driver.