London 2012: Olympic bonus bus strike suspended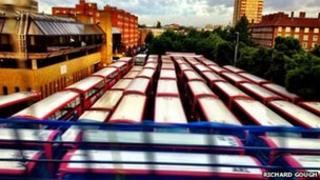 A bus strike due to begin on Thursday in a row about Olympic bonuses has been suspended while union officials consider a new offer.
Bus companies have offered a bonus of £583 to drivers working 24 of the 29 days that the Games are on, or £700 for drivers in busy garages.
The conciliation service Acas confirmed the strike has been put on hold following a third day of talks.
The last strike on the issue saw bus services disrupted across the capital.
Some bus companies had taken legal action to prevent workers striking.
But Peter Harwood, Acas chief conciliator, said: "I am pleased to announce the suspension of both the pending court action and tomorrow's strike. Acas talks are continuing."
'No justification'
The Unite union wants a bonus for each of its 21,000 members for working during the Games.
Transport for London (TfL) said it will split extra revenue from the Games 50:50 with bus operating companies, on the condition it is passed on to bus staff.
It has offered to have the amount of additional bus fare revenue generated during the Games independently verified.
TfL's managing director for surface transport, Leon Daniels, said: "The offer of additional funds from the bus operating companies and a share of any additional bus fare revenue generated during the Games means there is no justification for further strike action.
"Should Unite insist that the total sum available is offered to all employees at bus operators across London, then this would mean a payment of £583 for every employee of every bus company.
Strike pay
Members of the union went on strike last month and were planning a second 24-hour walkout on Thursday.
Unite argues that, as other transport workers are being paid bonuses, the treatment of bus drivers has been unfair.
It is also planning on holding a strike on 24 July, days before the Games begin.
As well as demanding the bonus, the union is also holding out for an extra £100 for every day workers go on strike.
TfL said the strikes were not necessary and said an extra £8.3m had been offered by the mayor but the union had failed to put any offers to its members.
Three firms - London General, Arriva the Shires, and Metroline - obtained a High Court injunction preventing their employees joining the strike on 22 June.