London 2012: Talks aim to prevent Olympics bonus strike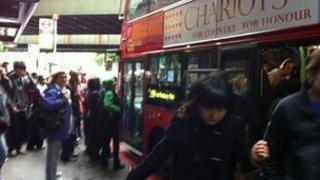 Talks aimed at averting fresh strikes by London bus workers in a row over Olympic bonuses have been held.
Members of the Unite union went on strike last month and are planning 24-hour walkouts on Thursday and on 24 July, days before the Games begin.
The union is seeking £500 for each of its 20,000 members for working over the Games period.
The talks at the conciliation service Acas have been adjourned for the day but will resume on Tuesday.
An Acas spokesman said: "Talks between Unite and the bus companies have now adjourned for the day.
"We are pleased that they have been constructive and there will be further talks with Acas tomorrow."
Unite argues that other transport workers are being paid bonuses and the treatment of bus drivers has been unfair.
Transport for London (TfL) has described the strikes as "unnecessary" because an extra £8.3m has been brokered by the mayor, but the union has failed to put any offers to its members.
Meanwhile, the Rail, Maritime and Transport (RMT) union has confirmed that balloting for strike action and action short of a strike will begin this week on three train services - South West Trains, Greater Anglia and First Great Western.
Greater Anglia said "constructive discussions" had taken place with the RMT and staff representatives.
RMT General Secretary Bob Crow said it was a "scandal" that bosses at the three companies had tried to "force staff to work longer and harder for little or nothing in return".
He said deals had been concluded with a number of train operators including First Capital Connect, C2C, Chiltern, East Midlands Trains and East Coast.