Over 130 arrests in London-wide licensing crackdown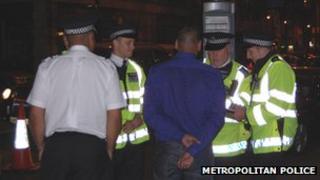 More than 130 people have been arrested as part of a Metropolitan Police crackdown on unlicensed activity across the capital.
The two-day operation began on Friday and has seen officers visit 2,525 London venues.
Police targeted shops, supermarkets, pubs and clubs, as well as minicab drivers and betting shops.
A total of 133 people were arrested on Friday with officers reporting or disclosing 327 offences.
'Harm to community'
The operation involves 1,500 officers from all 32 boroughs and is one of the biggest of the year, said police.
Around 1,000 counterfeit cigarettes, 50 litres of counterfeit vodka, 300 packs of chewing tobacco and 250 cases of alcohol were also seized.
It comes after a similar operation in February that saw 4,896 licensed premises visited over a period of 48 hours.
A total of 658 licensing breaches were identified with police making 420 arrests.
Commander Mak Chishty, who is leading the operation, said: "Those who break the [licensing] laws harm our communities by selling knives, harmful substances or alcohol to young people will be targeted."
He added: "The results of unlicensed activity on our streets can find the form of underage drinkers acting unsociably close to where we live, unlicensed mini-cabs endangering passengers and also shops who potentially encourage the circulation of stolen items."
Mayor of London Boris Johnson, said: "Whether it's unlicensed minicabs which endanger women, the illegal sale of alcohol or the selling of weapons to our young people, this immoral behaviour contributes to serious crime across London."