World Pride event in London cut back due to lack of funds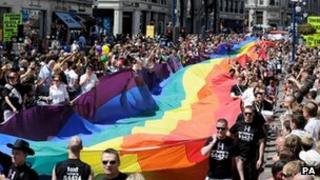 The World Pride event to be held in London has been drastically scaled back because of a funding shortfall.
No floats or vehicles will be allowed to take part in the traditional parade through the West End which is due to take place next weekend.
The organisers say securing funding has been challenging due to the recession.
Gay rights campaigner Peter Tatchell said the event risked being a "chaotic damp squib" which would damage London's reputation.
"The sudden, drastic curtailment of the World Pride parade, rally and street parties is a huge blow to London and its gay community.
"Visitors from all over Britain and the world face disappointment. It will do great damage to London's reputation just three weeks before the Olympics," added Mr Tatchell, who helped organise Britain's first Gay Pride parade in 1972.
The plans include:
The procession will cover the same route as planned and will start at 11:00 BST instead of 13:00.
The celebrations in Trafalgar Square are expected to proceed, but with some changes to the programme, including an earlier start and finish time.
There will be no official World Pride events in Soho.
The Golden Square event will be cancelled and the Family Area in Soho will proceed independently.
This year is the first time that London will host World Pride, which brings together lesbian, gay, bisexual and transgender (LGBT) people from all over the world to participate in a parade, rally and human rights conference.
Mr Tatchell said the shortening of the post-parade rally in Trafalgar Square would force organisers to drop booked entertainers and human rights speakers.
"These ill-advised decisions are likely to result in hundreds of thousands of people milling aimlessly around the West End. It is a recipe for confusion and disruption."
A spokesman for the organisers said: "To a backdrop of a more difficult economic climate and tough sponsorship calls considering everything that is happening in London this year, fundraising from both corporates and from within the community has been more challenging than ever."
The mayor's office has provided funding of £100,000 to the event.
Mayor of London, Boris Johnson, said: "Pride is a fantastic and vital event in London's calendar, which we are proud to sponsor.
"We have worked hard with the organisers and other agencies and I'm delighted that it will be going ahead."
Leith Penny, strategic director for city management at Westminster City Council, said authorities were working to help Pride put on an event based on the resources available.