London 2012: More bus strikes in Olympics bonus row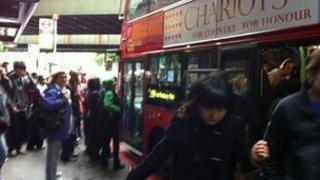 London bus workers are to stage two fresh strikes in a dispute over an Olympics bonus, including one walkout days before the Games start.
The Unite union said workers would go on strike on 5 and 24 July - three days before the opening ceremony.
Drivers at 17 bus companies who want a £500 Olympic bonus staged a 24-hour walkout last Friday.
Transport for London (TfL) said the strikes were "unnecessary" as an extra £8.3m has been brokered by the mayor.
'No retreat'
The union is seeking a bonus for its 21,000 members, pointing out that other transport workers have been promised the payment for extra work entailed during the Games.
It said as well as holding out for the bonus, the union would hold out for an extra £100 for every day the workers go on strike.
The union is planning on holding talks at the conciliation service Acas on Monday.
BBC News Industry Correspondent John Moylan said bus companies had declined to meet at Acas earlier this week as it was thought they were seeking to meet privately with the union to settle the dispute on an individual basis.
He added that Stagecoach East London, one of the main firms with routes near the Olympic Park, has made an offer to its staff which will be put to workers on Friday.
A previous meeting at Acas ended without a deal being struck.
Three firms - London General, Arriva the Shires, and Metroline - obtained a High Court injunction preventing their employees joining the strike last Friday, which caused disruption to thousands of passengers.
Union members from these companies are not allowed to take part in any further strikes as the legitimacy of the ballot has been questioned in court, however a new vote is to be held next month which could mean that members would be allowed to take part in the 24 July strike.
Regional officer Peter Kavanagh said: "Strike action is being pushed closer and closer to the Olympics because bus companies, supported by the mayor, seem to think it is acceptable to try a dangerous game of brinkmanship.
"This dispute could be resolved at a stroke if the operators negotiated meaningfully.
"Instead it looks like a co-ordinated attack, orchestrated by the mayor, looking for a political fight with Unite and bus workers.
"The workers are getting angrier by the day, and there will be no retreat."
Leon Daniels, TfL's managing director surface transport, said: "It is and always has been for the bus companies and Unite to resolve this dispute, and Londoners will doubtless agree that it is completely unnecessary for the Unite leadership to threaten further disruption."
He said in most cases, the Unite leadership had refused to meet the bus companies and the union had failed to put any of the offers to their members.
Asked whether Prime Minister David Cameron was concerned at the prospect of disruption to the Olympics, the Downing Street spokeswoman said: "We want these to be the most successful Games and we are confident they will be."
She added: "We have been contingency planning and we are prepared. Transport for London have a number of contingency plans in place for various eventualities."
Labour leader Ed Miliband told Unite's national conference in Brighton earlier that the Games should not be disrupted by industrial action.
"We cannot let industrial action disrupt the Olympics and damage the special moment for Britain. The two sides must make sure that does not happen," he said.