IPCC defies coroner over Duggan statements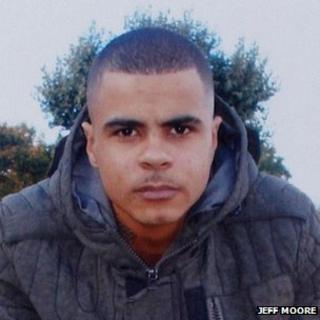 A coroner has clashed with the lawyer for the Independent Police Complaints Commission after it refused to release material on the death of Mark Duggan.
Mr Duggan's shooting by police in north London sparked the 2011 summer riots.
The IPCC barrister, Robin Tam QC, refused to provide copies of witness statements to Coroner Andrew Walker during a pre-inquest hearing.
Mr Walker said that was "quite extraordinary" and ordered the material to be disclosed within 28 days.
The death of Mr Duggan, 29, led to protests in Tottenham which then turned into widespread looting and rioting across the country.
Refusing to provide the requested material, Mr Tam explained the IPCC wanted to disclose all of the evidence and statements it had gathered at the same time.
He said: "Further significant evidence has come to light which is being worked on."
Investigation 'mal-management'
BBC Home Affairs Correspondent Danny Shaw said it was thought to be a reference to video footage of the shooting obtained by the BBC.
Mr Tam went on to claim it would be "dangerous" to provide only some of the material.
Michael Mansfield QC, representing Mark Duggan's family, said the IPCC's position was "utterly unacceptable", warning the organisation it would be in contempt if it refused the coroner's instructions.
He suggested the reason the IPCC did not want to pass on the information was its own "mal-management" of the investigation.
"That's the explanation they don't want to give you," he said.
A review is scheduled to take place in October to determine if an inquest can be held or if an inquiry will take place instead.
The coroner has said previously it might not be possible to hold an inquest because of the existence of sensitive evidence.