London A&E units closure plan published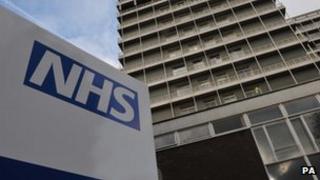 Health bosses in north-west London have put forward plans to close four of the nine accident and emergency departments in the area.
They say the changes will save lives and give patients better care but it would mean the loss of A&Es at Charing Cross, Ealing, Hammersmith and Central Middlesex hospitals.
Critics of the plan claim patients will have to travel further for treatment.
The proposal will be considered for approval on Monday.
Under the plans new "super" units will be set up at other hospitals in the area, with more consultants and bigger teams working in shifts 24 hours a day.
The programme called "Shaping a Healthier Future" was launched at the end of last year, with the NHS in north-west London saying it needed to save around £1bn over the next three years, as well as improve standards.
The NHS has now published its preferred option, ahead of a consultation.
'Centres of excellence'
The plan means the Chelsea and Westminster would remain as a major hospital, keeping its A&E.
St Mary's in Paddington would be the same, as would Northwick Park, the West Middlesex and Hillingdon.
Charing Cross and Ealing hospitals would become local hospitals, with urgent care centres.
The Central Middlesex Hospital would become a centre for planned or elective operations.
Hammersmith would become a specialist centre.
Anne Rainsberry, chief executive for NHS NW London, said: "This isn't about cutting corners or getting away with the bare minimum. We want to change the way we deliver care so that outcomes are improved.
"More care should be delivered closer to home and, by also centralising some specialist hospital-based services, the NHS can ensure that people can benefit from receiving treatment at centres of best practice and excellence."
Ealing and Hammersmith & Fulham Councils have said they will fight the proposals, which go out to public consultation at the start of July.
Mark Loveday, Conservative councillor on Hammersmith & Fulham Council, said of the threat to Charing Cross Hospital: "This is an enormous teaching hospital with a 200-year history. You can't make the Charing Cross Hospital into a local hospital. It's absurd. People won't put up with it."
The plans will go to the Joint Committee of Primary Care Trusts (PCT) on Monday for approval, before a public consultation that will run from July to October, with a decision on the proposed changes being made early in 2013.