Boris Johnson's 'dinner with Rupert Murdoch not declared'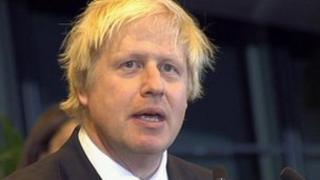 Boris Johnson's failure to officially declare he had dinner with Rupert Murdoch has sparked an inquiry call by the London Assembly Labour group.
The group said the mayor had "dropped into dinner" with the media tycoon on 24 January 2011.
The meeting has been detailed on the assembly website, but not declared on City Hall's register of hospitality.
Mr Johnson's office confirmed: "Details of the two meetings in question have been on our website for almost a year."
However, Labour group leader Len Duvall has written to City Hall's monitoring officer to formally complain the information has not been dealt with properly.
The dinner took place three days after the Conservative Party's head of press, Andy Coulson, resigned.
'Jaw-droppingly arrogant'
Details of it were published after a Freedom of Information (FoI) request by the Political Scrapbook website, and does appear on the FoI disclosure log .
However, there have been no declarations in the mayor's register of interest and hospitality or in his reports to the London Assembly .
On 25 May, the mayor said all his meetings with News International had been declared .
The response from the mayor's office, dated 15 June this year, states that on the 24 January 2011 the mayor "dropped into dinner with Rupert Murdoch and others".
Mr Johnson said because the value of the meal was less than £25, he did not have to declare it.
Mr Duvall said: "This is extremely serious.
"For the mayor to not declare a meeting with Rupert Murdoch at the height of the phone-hacking crisis is truly scandalous.
"To think he could 'drop into dinner' with Rupert Murdoch and not declare it is jaw-droppingly arrogant, especially at the height of the phone-hacking inquiry."
In April, BBC London learned that Mr Johnson had looked at securing commercial deals with News International at the same time the Metropolitan Police was investigating the company over phone hacking.
He has also defended comments made in 2010 when he described the phone hacking claims as "politically-motivated codswallop", saying he had "misunderstood the severity of the allegations".