London 2012: Protester's banning order extended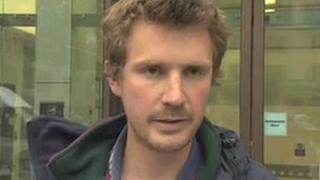 A man barred from protesting at the site of an Olympic basketball training facility has had his banning order extended by two years.
Simon Moore was jailed in April after admitting to public order offences over a protest at Leyton Marsh, east London.
Westminster Magistrates' Court granted an extension to the anti-social behaviour order (Asbo) which forced him to stay away from all Games venues.
An interim order also banned Mr Moore, 29, from Diamond Jubilee celebrations.
That order was made in May and magistrates have decided to extend it by two years.
It prevents him from going within 100 yd (91m) of any venue, event, participant or route relating to the Olympic Torch Relay, the Games or Diamond Jubilee.
In April, he spent five days in jail over blocking access to the building site.
He could face up to five years in jail if he breaches the court order.