Occupy London protesters evicted from Finsbury Square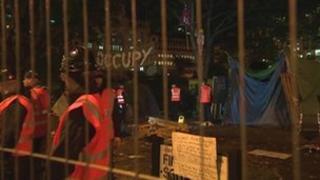 Demonstrators who had been camping in a north London square since last October have been evicted.
Protesters from Occupy London left Finsbury Square in Islington after bailiffs set up metal fencing around the 130 tents at about 01:00 BST.
Islington Council has secured the eviction notice for the camp, which was an extension of the protest outside St Paul's Cathedral.
The eviction was "peaceful and low-key" said the council.
The occupation cost the local authority close to £60,000, the High Court was told.
'No violence, no obscenities'
The Metropolitan Police said they were at the site to support the bailiffs after the council was granted a possession order and injunction on 1 June.
The council said its team helped 48 homeless and vulnerable people, including people from Europe, in the month leading up to and during the eviction.
Paul Convery, Islington Council's executive member for community safety, said: "Finsbury Square is public space for the people of Islington, one of Britain's most deprived boroughs.
"We're returning the square to community use and it is being cleaned and will soon be reopened to the public for the summer."
He added: "A number of vulnerable and homeless people have been living in the square. We have been speaking to them and offering advice and support to those who need assistance."
Caroline Powell, an Occupy London protester, said: "The fact that people are being turfed out of a place they had considered home for seven or so months and are managing it so well, late at night and exhausted, I am very proud of what we are managing to do here."
Another protester Edwina Mayne said there were "no arrests, no violence, no obscenities".
At the High Court Mr Justice Hickinbottom was told the Finsbury Square camp had caused £20,000 damage to the land and the council had spent £26,000 on security.
The council said it also lost £12,000 in rent and income after restaurants in the public square closed.
The judge refused permission for the group to appeal although they could have taken their case directly to the Court of Appeal.
A number of local businesses had complained about the camp.
Finsbury Square become the focus for those supporting the Occupy London movement when the protest outside St Paul's Cathedral ended in February.