Fire under moving train in Mottingham investigated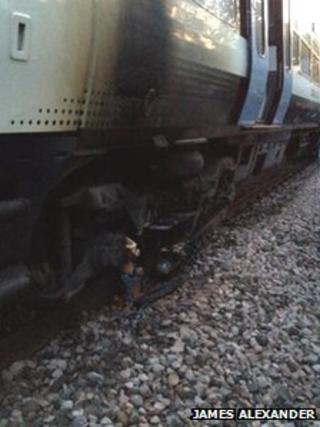 An investigation has begun after 200 passengers were forced to leave a train in south-east London following a small fire under a carriage.
The Southeastern train was a mile from Mottingham station on Wednesday night when a "shower of sparks" was seen, followed by smoke filling the carriage.
The fire was out when emergency services arrived. No-one was injured.
Police believe the fire began after the train struck an object which may have been deliberately left on the track.
The fire damaged part of the first coach of the eight-carriage train bound for Gravesend.
Fire crews were called at 21:20 BST on Wednesday and led 70 people along the line to nearby Lee and Mottingham stations. Scores of others made their own way off the service.
A spokesman for London Ambulance Service said its staff had checked over a number of passengers at the scene.
Det Insp Ashley Cooper, from British Transport Police (BTP), said: "We are keen to talk to anyone who may have information about the incident, particularly two men who were seen running from the scene.
"The remains of the object will undergo forensic tests as part of the BTP investigation into the incident.
"This apparent act of vandalism could have had very serious consequences. Luckily, no-one was hurt and the train remained on the tracks."
James Alexander, 30, a web developer from Mottingham, had boarded the train from Charing Cross and was in the first carriage.
He told the BBC: "The train was travelling along fine, then there was a thud and then a shower of sparks down the left hand side of the train. People jumped and slammed the windows shut.
"The carriage was filling with smoke, and there was a lot of flashes and electrical sounds coming from the source of the flames."
Mr Alexander said the train had started to slow when he pulled the alarm cord.
The driver asked passengers to move down the train but to stay on board. However, many travellers got off and began walking along the tracks.
"I was amazed at how many people did not seem to think about the live rail issue and just got off," Mr Alexander added.
Southeastern trains said on its website that services through Hither Green and Sidcup were disrupted on Wednesday night because of the incident and buses were being used to take passengers between Lewisham and Dartford.