'Ground-breaking' changes for London cancer patients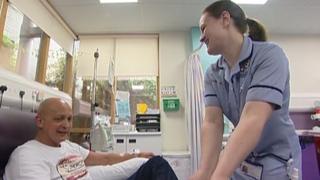 The way London's cancer patients are treated changed on Thursday in a move the NHS hopes will save up to 1,000 lives a year.
Cancer services in the north and east of the capital have combined to be called London Cancer - responsible for more than three million people.
It has brought together hospital specialists, GPs and scientists.
Patients can now receive specialist care at major cancer centres and then the rest of their care closer to home.
London Cancer's chief medical officer Professor Kathy Pritchard-Jones said: "We've got some of the best scientists and clinicians in the country in our capital city but we need to get them to work together much more effectively for the benefit of patients.
'Compete with the best'
"I think this is a real opportunity to do something ground-breaking for our patients.
"We've been given the opportunity to think really big and to plan services for a population of three and a half million people in north and east London, so this means we can now compete with the very best in the world."
About 13,600 people die from cancer in London each year and more than 27,000 are diagnosed with the disease.
One patient is 46-year-old black cab driver Mark Fitzpatrick.
He is one of the first to experience what life will be like for future patients.
In January he was diagnosed with cancer at Barts Hospital. Since then he has been receiving his chemotherapy treatment at Whipps Cross Hospital - 10 minutes from his home - meaning he does not have to travel into town.
He said: "It's not a journey you'd want to do on a regular basis, particularly at the beginning - because if you are particularly ill you don't want to be travelling into central London.
"It's just so handy to go to your local hospital. I mean, I live 10 minutes away, it just makes life so much easier at a time when you don't feel well.
"It's nice to be treated locally as it's a small unit and they treat you particularly well."
At the moment the average survival rates for cancer in London one year after diagnosis are worse (63.8%) than the rest of the country (66.5%).
Satisfaction rates amongst patients are also lower.
It is hoped this new network, and one for south and west London, to be launched later this year, will change that.