Stephen Lawrence murder: Police inquiry 'not corrupt'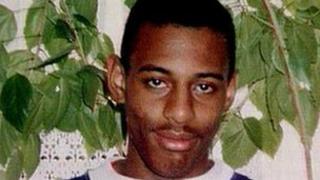 The Metropolitan Police was not corrupt in its handling of the Stephen Lawrence inquiry, an internal report says.
Mr Lawrence was 18 when he was stabbed to death by racist killers near a bus stop in Eltham, south-east London, in April 1993.
Allegations then surfaced that the investigation was hindered by a corrupt officer, who may have taken a bribe from one of the murderers' fathers.
But the Met inquiry - which began three weeks ago - rejected the claims.
It concluded: "No investigations, nor the inquiry, have uncovered evidence of corruption or collusion which could have adversely affected or otherwise influenced the path of the original investigation or subsequent investigations."
A previous Independent Police Complaints Commission inquiry concluded there was no evidence of corruption.
Gary Dobson and David Norris were convicted of Mr Lawrence's murder in January.
'Address their concerns'
His mother, Doreen Lawrence, called for the reopening of the major public inquiry into the circumstances of his death.
She has written to the Home Secretary Theresa May about her concerns that the initial 1993 investigation involved corrupt police.
Following the publication of the latest report, Commander Peter Spindler, of the Met's directorate of professional standards, said: "We fully appreciate that Stephen's family want all their questions rightly answered.
"We hope this review goes at least some way to address their concerns and those that have appeared in the media.
"At this stage there are no new allegations or evidence that would merit further investigation. However should any new information arise relating to alleged corruption in the original investigation into Stephen's murder, it would be seriously considered."
The corruption allegations were first made in a BBC programme in July 2006, which reported former police detective Neil Putnam saying that Det Sgt John Davidson took a bribe from Clifford Norris, father of David Norris.