Queen's Park parish council gets go-ahead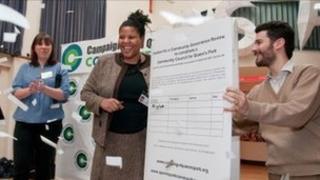 Residents in north-west London have voted in favour of creating the first parish council in London for 50 years.
A total of 1,100 Queen's Park residents voted in support of a parish council, while 508 voted against it, in a referendum held by Westminster Council.
About 20% of the 8,000 residents eligible to vote took part.
A formal decision will be made at a Westminster Council cabinet meeting on 11 June and a full council meeting on 25 June.
Parish councils in London were abolished in 1963, when the London County Council was replaced with the Greater London Council.
But a 2007 law restored the power for London boroughs to establish parish councils.
Two staff
The Queen's Park parish council is expected to undertake responsibility for a range of activities including coordinating community events, befriending the elderly, supporting young people and the unemployed, local management of Queen's Park gardens launching local allotments.
The Queen's Park Campaign Group has set out its intention to levy a precept of between £3.30 and £3.70 per month. This would pay for an office and two members of staff.
The Deputy Leader for Westminster City Council, Councillor Robert Davis said: "I am delighted that the residents of Queen's Park have given a clear endorsement to the proposal for the community council.
"For Westminster to have the first parish council in London for 50 years would be a fitting endorsement of the government's ambitions for localism and neighbourhood engagement."