Waltham Forest Council suspends long-distance rehousing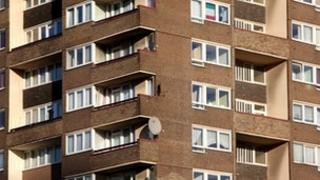 A local authority in east London has suspended its policy of rehousing residents long distances away.
Waltham Forest Council said many people had refused to go to areas as far afield as Walsall in the West Midlands.
It said fewer than 30 residents in temporary accommodation had taken up homes on offer outside London because of changes to housing benefit.
The policy was criticised after a Stoke-on-Trent housing body revealed an approach by a council 160 miles away.
Waltham Forest Council said long-distance locations included Luton in Bedfordshire, and Margate, Kent.
It has concluded, however, that a recent acquisition of housing in Walsall was a step too far and has largely been rejected by residents squeezed by rising rents and benefit caps.
Councillor Marie Pye said: "The majority of people we offered this to just turned it down.
"Most people said they'd rather stay on their mum's floor so their kids could go to the same school.
"We need to redouble our efforts to find accommodation in east London."
But one mother who was relocated told the BBC she was delighted with her new flat in Walsall.
She said: "I was living in temporary accommodation and the condition was very bad.
"I prefer it here to London. In London everything is too expensive."
Local ties
As part of its welfare reforms, the government introduced weekly caps on housing benefit of between £250 for a one-bedroom flat and £400 for a four-bedroom property.
Local Housing Allowance, which is used to determine housing benefit payments, has also been changed so it is being calculated on the basis of cheaper rents - rather than on the mid-point of rents in an area.
Waltham Forest has become one of the first councils to suspend procuring more property outside London for the time being, and will now more rigorously consider work, school and family ties.
It was also be looking to join a consortium of other London councils aimed at reassigning tenants back to their respective boroughs.
Last month Housing Minister Grant Shapps said long-distance relocation was unnecessary and illegal if used as a blanket policy with councils not taking into account peoples links to an area.