Croydon gets £100,000 for Old Town market rejuvenation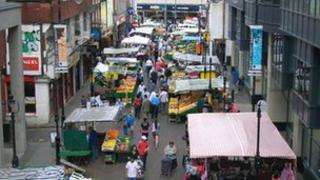 A London borough has secured £100,000 of government money to invest in an area affected by the riots last year.
Old Town in Croydon was one of 12 chosen "Portas pilot" areas, outbidding 370 other projects across the country.
Croydon Old Town Business Association said the money was not enough but "it has set the ball rolling".
The project aims to attract local traders to the area to open businesses, set up pop-up shops and open a food court in the piazza in Exchange Square.
The 12 areas will receive a share of the £1.2m fund which was made available after retail guru Mary Portas reviewed the proposed projects.
Trading in Surrey Street, which is at the heart of the Old Town, began after the area was granted a Royal Charter in 1276.
'Change negative perceptions'
The money will go towards transforming the Old Town and surrounding streets, including Frith Road, Church Street and Exchange Square.
The bid by Croydon Old Town Business Association (COBA) and Croydon Council also includes plans to create a member-owned cooperative to provide small loans to people wanting to open shops in the area.
Kez Hassan, chairman of COBA, said: "We realise £100,000 is not going to be enough but we hope that this has at least started the ball rolling and the momentum now is to get more investment in the area.
"Earlier people would not even venture past this area, they felt it was messy, unkempt and unsafe. It has been a hot-spot for crime and gangs.
"We need to change the negative perceptions of Croydon and this will reset the foundations."
Graham Reeves, the owner of Reeves Furniture Store which was burnt during riots last August, said: "Rejuvenation is desperately needed in the area".
Councillor Vidhi Mohan, Croydon Council's cabinet member for communities and economic development, said: "It will be amazing to see Exchange Square finally brought to life. This is a hidden gem in the town."
Local Government Minister Grant Shapps: "Croydon's bid was absolutely exceptional, it scored on lots of different levels.
"Obviously Croydon has had some problems, I thinking of the riots last year, that's now well behind them and I think it's important to recognise the progress that's been made and back the excellent plans."