Former Lloyds worker Jessica Harper in £2.5m fraud charge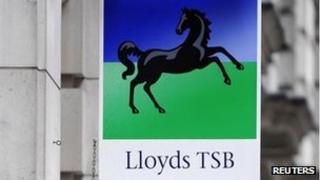 A former head of security at Lloyds Bank has been charged in connection with an alleged £2.5m fraud.
Jessica Harper, 50, of Croydon, south London, is accused of submitting false invoices to claim payments, between September 2008 and December 2011.
At the time she was working as head of fraud and security for digital banking and allegedly made false claims totalling £2,463,750.
Ms Harper will appear at Westminster Magistrates' Court on 31 May.
She has been charged with one count of fraud by abuse of position.
The bank, which is now 39.7% state-owned after being bailed out by the government during the financial crisis, refused to comment on the charging of Ms Harper.
A Metropolitan Police spokesman said she was arrested on 21 December 2011 by officers from its fraud squad.
Andrew Penhale, from the Crown Prosecution Service's Central Fraud Group, said: "The charge relates to an allegation that between 1 September 2008 and 21 December 2011, Jessica Harper dishonestly and with the intention of making a gain for herself, abused her position as an employee of Lloyds Banking Group, in which she was expected to safeguard the financial interests of Lloyds Banking Group, by submitting false invoices to claim payments totalling £2,463,750.88, to which she was not entitled.
"This decision to prosecute was taken in accordance with the Code for Crown Prosecutors.
"We have determined that there is a realistic prospect of conviction and a prosecution is in the public interest."