Nurofen Plus tampering: Christopher McGuire jailed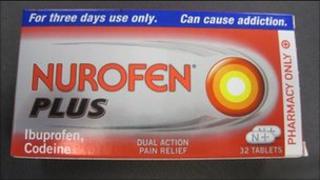 A man who contaminated painkillers with powerful anti-psychotic drugs has been jailed for 18 months.
Christopher McGuire, 31, from near Glasgow, tampered with boxes of Nurofen Plus in London and Northern Ireland.
He was found guilty last year of one count of contaminating goods and two of administering a noxious substance.
McGuire cost the manufacturers £2.4m and saved himself £7 when he put anti-psychotic drugs in empty packets of the painkiller.
The scheme involved asking for Nurofen Plus at a pharmacy counter and then attempting to pay for it with a card he knew would be declined.
This created a sufficient distraction for McGuire, who went to university at the age of 16, to discreetly swap the contaminated packet for the fresh one and walk away.
Four packs in London were found to contain the drug Seroquel XL 50mg which he was using for his schizophrenia and one pack in Northern Ireland contained prescription medicine for epilepsy.
Manufacturer Reckitt Benckiser recalled the pain relief tablets and stopped their distribution on 26 August.
The court heard McGuire took 32 tablets of the drug every day however when he lost his job he struggled to pay for his addiction.
McGuire, of Edzell Drive, was tracked down to his landlady's home in Swanley, Kent, on 23 September after the origins of the Seroquel were traced. He admitted his actions and was later charged with causing a public nuisance.
Nurofen Plus is an over-the-counter remedy for pain relief which contains codeine and ibuprofen.
The court heard how two men, Peter Letham and Paul Connor, experienced tiredness and dizziness after mistakenly taking the drugs.
Two other customers had bought the Nurofen packets but did not swallow any.
Passing sentence at Southwark Crown Court, judge Alistair McCreath said: "Your acts caused very considerable financial harm, amounting to well over £2m.
"The costs included recalling the product, destroying suspect stock, investigating the problem which you caused, returning new products to the market and handling the reputational damage caused by you.
"In short, the harm you actually caused or might have caused by your acts was very high."
He acknowledged McGuire was a man of good character and took steps to overcome his addiction, however he said the defendant's mental illness did not prevent him from understanding "at least some of the terrible potential consequences" of his actions.