'Predatory' ex-TA captain Brian Witty jailed for rapes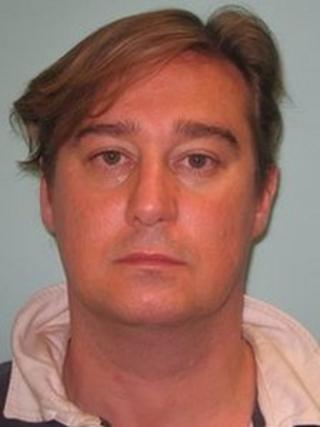 A former Territorial Army soldier has been jailed indefinitely for a string of sex attacks.
Brian Witty, 41, was convicted last month of three rapes and one sexual assault between 1995 and 2011 in south-west and central London.
He met two victims through a dating website and others in bars.
Witty was told he must serve a minimum of eight years. The sentence means he will only be released if he can show he is no longer a danger to women.
Sentencing Witty, Judge Price told Witty he was a "bullying, self-obsessed, arrogant sexual predator who was determined to indulge in fulfilling your desires, irrespective and dismissive of their [your victims'] pleas".
The first of the four offences occurred in January, 1995. It involved a woman Witty originally met at the Slug and Lettuce pub in Fulham, south-west London.
'Predatory rapist'
Another allegation was made by a woman he met at Covent Garden, central London in May 2006 after they made contact through an online dating agency.
On 1 October 2008, Witty, of Teddington, south-west London, met the third victim by chance in a bar in the City of London.
The fourth victim was introduced to him through the same dating website and they met at The Anglers pub in Teddington in August last year.
Police described the former TA Parachute Regiment captain as "a predatory rapist" and said they feared more women may have been his victim.
After serving his minimum term, Witty will have to complete a series of courses to prove he can be released.
These courses are oversubscribed and can take years to get on to and complete.