Stephen Ojerinola murder: Men 'buried teen under shed'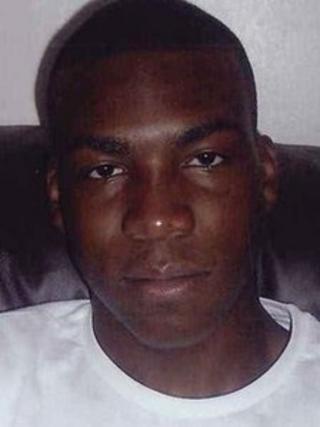 An 18-year-old man was murdered by two men who then buried his body under a garden shed where it lay undiscovered for seven months, a court heard.
William Regan and Lee Davies, both 36, deny killing Stephen Ojerinola at Mr Regan's house in Kidbrooke, south-east London, in April last year.
The Old Bailey heard the men then buried his body, encased in concrete, underneath a garden shed.
The men have admitted charges of preventing a lawful burial.
Prosecutor Max Hill QC said: "Neighbours started to notice unusual activity, including the delivery of the shed, flat packed on to the roof of a car, and night-time digging in the rear garden that went on into the early hours of the following morning."
The court heard that in November last year, police searched the house and found parts of it were "filthy", while there was an "unnatural cleanliness" in other rooms.
Traces of Mr Ojerinola's blood were found on the front door and door frames, as well as on a hammer and a baseball bat.
When experts excavated the ground underneath the shed, his body was found under gravel, a tarpaulin, wooden boards, rubble, soil and concrete.
The teenager suffered a fractured skull and multiple stab wounds, the court heard.
Mr Hill added that Mr Ojerinola had been placed in the "grave to rot" and that the accused had shown a "callous disregard" for his life.
'Explode into violence'
Jurors were told that Mr Ojerinola had been "mercilessly attacked" and suffered a fractured skull and multiple stab wounds.
Mr Davies is said to have told a friend after the alleged murder: "Things have taken a turn for the worse and it's only a matter of days.
"Something's happened and I could go away for a long time."
The jury was also told that Mr Ojerinola was a drug dealer and that Mr Regan was a drug addict who had recently been involved in a burglary where £10,000 was stolen.
Mr Hill said: "Stephen Ojerinola found himself in the company of these two men, both twice his age and both the prosecution say with a tendency themselves to explode into violence and a predisposition to use weapons to inflict injury on others."
The trial continues.