Chelsea Flower Show 2012: Queen to go on private tour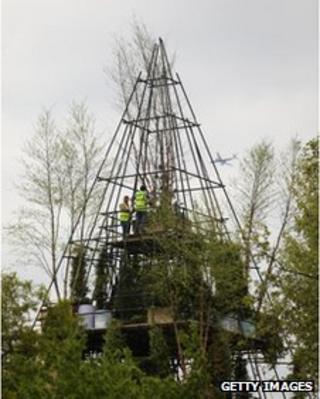 The Queen and Duke of Edinburgh will be among the first to see the exhibits at this year's Chelsea Flower Show when they embark on a private tour later.
The flower show, which has been at the grounds of the Royal Chelsea Hospital in west London since 1913, will be opened to the public on Tuesday.
Some 157,000 visitors are expected to attend the event in the first week.
Recent wet weather has led to muddy conditions however organisers say the rain will make the plants look better.
Deputy show manager Sarah Easter said the build-up to the five-day show had been the wettest for 100 years.
"It's been very cold and very wet, it's been absolutely incredible. The rain has been very welcome, the show will look beautiful and lush.
"Last year it was so hot and dry we barely had any grass, this year it's going to look beautiful."
Ms Easter added that organisers had been scraping off the top layer of soil to help exhibitors and are pumping excess water off the site.
Although many of the plants used are weather-dependent, designers have used substitutions which are more suited to the wet weather.
'Cage-like display'
Highlights of this year's show include a 24m (80ft) pyramid-shaped design by Diarmuid Garvin which stands at the entrance of the show.
The pyramid is made of scaffolding constructed over eight levels which are all covered in greenery but with different themes.
Bellboys will take people up the levels in lifts, with the option of a stainless steel tube to slide back down.
Other eye-catching exhibits include an installation featuring dozens of green rods to create a cage-like display with orchids, ferns and tulips growing inside.
Also at the show will be Tracy Chevalier, the author of Girl with a Pearl Earring, who will be the event's writer-in-residence.