Hammersmith tunnel 'solution to crumbling flyover'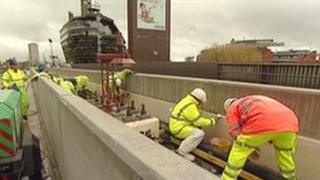 A west London council has said building a tunnel is the long-term solution to replace a "crumbling" flyover.
The Hammersmith Flyover has been under repair works since December and is scheduled to reopen fully on 30 May.
Hammersmith and Fulham Council said: "We must continue to push for an alternative solution, and that is a tunnel."
Transport for London (TfL) said the flyover "would be able to survive for several further decades".
A council spokesman said: "TfL must realise that we cannot simply accept patch-jobs to prolong the life of this monstrous outdated and crumbling structure."
TfL Surface Transport spokesman Garrett Emmerson said: "Our engineers, contractors and traffic control operators continue to work flat out to deliver a permanent fix to the Hammersmith Flyover well ahead of the 2012 Games.
"The structure would be able to survive for several further decades.
"However the Mayor has also asked us to consider long term options for the area and that work will consider a range of possible solutions to the area's future needs."
The strengthening works, which began in January, have seen about 200m (650ft) of the central reservation along the flyover removed, a new structural slab and concrete barriers installed, as well as tailored anchorages for the new cables installed within the structure.
TfL has been carrying out two weeks of overnight closures to flyover since 15 May to carry out the final parts of this work.
It said it would return to the structure in 2013 for more strengthening work which will be carried out, where possible, with no weight or lane restrictions and minimal closures to the flyover.