Most London councils try to move people outside borough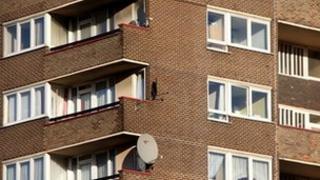 The majority of London councils have tried to send some residents on their housing waiting list outside their borough in the last year.
Of 26 London boroughs who replied to a BBC information request, 65% said they had actively tried to relocate people to a different borough in 2011-12.
In total, 38% of councils said they had relocated people outside the capital.
Kensington and Chelsea, in west London, said it moved 769 people into temporary accommodation outside of the borough.
Kim Brown, 46, grew up in Ladbroke Grove, in Kensington and Chelsea. She registered with the council as homeless and was found a house in Dagenham, on the east London-Essex border.
"To start your life here afresh at 46, with a 16-year-old, is just beyond belief," she said.
"It's the other side of the world to me here. I was born in Ladbroke Grove and that's the only area I know."
'No room'
She said she was told: "There is no room for you in Kensington and Chelsea. You and your daughter - out you go to Essex.
"When they gave me my options to move out to Dagenham, the next place was Reading and then Wales."
A Kensington and Chelsea spokesman said: "Currently, we house people in temporary accommodation in our own borough and other London boroughs.
"Private rented accommodation in the Royal Borough is some of the most expensive in the country and so it is inevitable that changes to the Local Housing Allowance will have a greater impact here than in other parts of the capital."
Meanwhile, Southwark Council, in south London, has announced it will build 1,000 new council homes by 2020.