London 2012: London bus drivers protest over extra pay for Olympics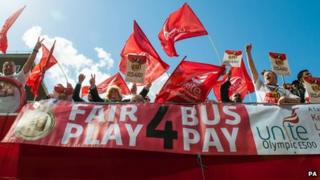 Off-duty bus drivers are visiting depots in London in an open-top bus to demand extra pay for working during the Olympic Games.
The bus will circle Transport for London's (TfL) office on Blackfriars Road before beginning a two-week tour of bus garages, the union Unite said.
It comes as ballot papers are sent to 20,000 workers over strike action.
The union wants a £500 bonus payment, but TfL said bus workers were employed by private firms who set their pay.
Unite says it expects 800,000 extra passengers to travel on buses during the Games.
Rail workers' bonus
Bus workers in London are employed by 21 separate companies, who have been notified of the union's intention to ballot its members.
Unite said bus workers were "the only London transport workers not receiving an Olympic payment" and called on London Mayor Boris Johnson to intervene.
It added that workers on London Underground, London Overground, Docklands Light Railways, Network Rail and Virgin would all receive between £500 to £900 pounds in extra payments.
Unite's regional secretary for London, Peter Kavanagh, said: "With 72 days left until the Games begin and a strike ballot under way, it's astonishing that bus operators are still doing zero to resolve this dispute and TfL is refusing to get involved.
"Passengers should direct their anger at TfL and the bus companies. Their behaviour is a massive dereliction of duty to London.
"If bus workers take strike action up to and during the Olympic Games the bus companies and TfL will be to blame."
Leon Daniels, TfL's managing director of surface transport, said: "London bus drivers are employed by private bus companies and their pay and conditions are set by those companies.
"If bus drivers are required to work additional hours they are always paid overtime accordingly."
A survey of 2,955 London bus and rail passengers commissioned by the union found that 88% were in favour of Olympic bonus pay.
The poll, by research company Mass 1, also found that 84% felt bus workers had most contact with passengers and would be on the "front line" during the Games.
Half of those surveyed were interviewed in and around Stratford and the Olympic Park in east London, the union said.