London 2012: David Beckham to collect Olympic flame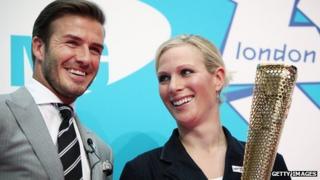 David Beckham will bring the Olympic flame back to the UK from the Greek capital Athens along with Princess Anne, Olympic organisers have said.
The footballer and Team GB hopeful will be at a ceremony where the flame is passed to London on Thursday evening, after a week-long relay around Greece.
The delegation, including five young people, will fly back on BA2012.
They land at a Cornish air base on Friday evening, ahead of the start of the torch relay on Saturday morning.
The flame, which was lit from the rays of the sun at Olympia on 10 May, will be passed on to London in a ceremony at the Panathenaic Stadium.
London 2012 chairman Seb Coe, British Olympic Association President and Locog Board Member the Princess Royal, Olympics minister Hugh Robertson and London Mayor Boris Johnson are part of the delegation in Greece to receive the flame.
Also bringing it back to the UK will be young people picked from across the country - Dennis Coles from East Ayrshire, Chloe Brown from Bangor, Sean White from Swansea, Georgia Higgs, from Cornwall and Sakinah Muhammad from Hackney.
The plane has been named The Firefly by schoolchildren. It took engineers nine days to paint it gold, white and yellow.
It will arrive at RNAS Culdrose in Cornwall on Friday evening, where a special ceremony will be held to welcome the Olympic flame.
The 70-day, 8,000 mile London 2012 Olympic torch relay begins at Land's End, Cornwall on Saturday morning.
It will be carried around the UK by 8,000 torchbearers before arriving at the Olympic stadium in Stratford for the Games' opening ceremony on 27 July.
Coverage of the handover ceremony will be in a special programme on BBC Two at 5.15pm on Thursday.
Coverage of the flame's arrival in the UK will be in a special edition of the One Show on BBC1, at 7pm, on Radio 5 Live and at www.bbc.co.uk/2012.