Metropolitan Police sacks Commander Ali Dizaei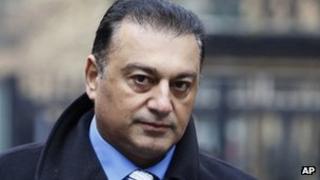 Commander Ali Dizaei has been sacked by the Metropolitan Police.
Dizaei, 49, said he had received written confirmation of his dismissal. This is the second time he has been sacked by the force.
He was convicted for perverting the course of justice and misconduct in a public office and jailed for three years in February, over an attack on a web designer in 2008.
Following his latest dismissal Dizaei insisted: "The fight is not over".
Dizaei was a police officer for 27 years, beginning his career with Thames Valley Police then working with the Met.
Met 'in denial'
A letter from Met Deputy Commissioner Craig Mackey informed Dizaei that he was being dismissed following a police tribunal recommendation. His pay stops from Tuesday.
A decision on his pension will be made by the home secretary.
Dizaei's spokesman said he had "been down this road before where he was prematurely dismissed from the force in 2010 when there was a live appeal against his conviction".
He said: "He notes with interest how the Met remained silent when he won his appeal and was reinstated last year and today the MPS (Metropolitan Police Service) department of public affairs is busy shouting his dismissal from rooftops to the media.
"There is (an) ongoing appeal against his conviction and Dr Dizaei has issued employment tribunal proceedings against the MPS with regard to his treatment, scheduled to be heard in February 2013."
A statement from the Met said: "Commander Ali Dizaei has been dismissed with immediate effect from the Metropolitan Police Service (MPS) following his conviction for two serious criminal offences.
"The [disciplinary] Tribunal found that Ali Dizaei had failed to meet the appropriate standard of conduct.
"It found that he was in breach of Codes 1, 8 and 12 of the Code of Conduct under Police Regulations 2004 relating to honesty and integrity, criminal offences and general conduct.
'Appropriate sanction'
Dizaei was first convicted in 2010 over the attack on web designer Waad al-Baghdadi in Kensington and was jailed for four years. He was then sacked.
That conviction was quashed by the Court of Appeal last year and he got his job back in September after going to the Police Appeals Tribunal.
He was found guilty at the retrial and was subsequently suspended on full salary while the Met's disciplinary tribunal decided whether he should lose his job.
He has been released from prison on an electronic tag and is currently trying to appeal against his latest convictions.
Separate claims that the Met racially discriminated against him will be heard at an employment tribunal next February.
Deborah Glass, Independent Police Complaints Commission deputy chairwoman, said: "Ali Dizaei's dismissal from the Metropolitan Police Service was the right and inevitable outcome following his conviction, a second time, for serious criminal offences.
"There is no place in the police for corrupt officers and they have no business wielding the powers of a police officer in our communities."
She added: "Many will wonder how Mr Dizaei was able to rise to the very senior rank of commander.
"The Metropolitan Police Service needs to ensure that never again is its reputation so badly damaged by the acts of one of its most senior officers."
Following the latest dismissal Dizaei said the Met was "in denial and remains an institutionally racist organisation".
In a statement he said he was "proud" that he had spent the past 27 years challenging police racism and would now focus his time assisting members of the public to do the same.