Queen's Jubilee tour reaches Bromley, Merton, Richmond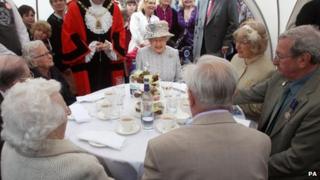 The Queen sat down to tea with couples celebrating their 60th wedding anniversary on the latest leg of her Diamond Jubilee tour.
In Bromley, south-east London, she and the Duke of Edinburgh were also greeted by 6,000 flag-waving schoolchildren lining the streets.
The royal couple met fashion designers at Queen's Garden in Bromley and visited a street party in Jubilee Road.
They then visited St Mark's Church of England Academy in Merton.
The event is the latest in a series to mark the Queen's 60 years on the throne.
'Remember forever'
Cyril and Evelyn Sergeant, both 86, got married on 23 February 1952 and said meeting the Queen made their diamond anniversary even more special.
Mrs Sergeant, from Orpington, said she remembered travelling to London for the coronation as a newly-wed.
She said: "I remember it was pouring with rain and I had a red coat on. When I got home the rain had left red marks on my clothes.
"Now it's 60 years later. We have got good humour, that's the key. We are always joking and that makes the difference."
Kenneth and Averil Holdaway, both 85, from Bromley, will celebrate their 60th wedding anniversary in August.
Mrs Holdaway sat next to the Queen at the tea party and said: "It all went too quickly but it was an experience I will remember forever."
'Huge difference'
At Queen's Garden she and the duke visited an exhibition showcasing British fashion over the past 60 years.
They then headed to Bromley High Street to join the street party and meet local business people.
A group of Year Six pupils from Unicorn Primary, in Beckenham, walked for an hour in the rain to see them.
One pupil, Abi, said: "The Queen has made a huge difference to people's lives."
Classmate Louie said: "Everyone was moaning at first, but we got over it. Now we are here having a very fun time."
Lilyarna Gamble, 78, from West Wickham, said: "I came here today because I have never seen the Queen in person. I wanted to see her at least once before I die."
As for the rain, she said: "Well, we are in England aren't we?"
After Bromley, the royal couple travelled to Mitcham for a British picnic-themed reception at St Mark's Academy and met high achievers from 13 south London boroughs.
They braved hail and rain to visit Richmond Park for a Wild London event celebrating the capital's woodlands, parks and gardens.
While touring the muddy grounds, the Queen was serenaded by the Chapel Royal of Hampton Court Palace choir singing 'Now is the Month of May'.
Sir David Attenborough, who was a special adviser for the event, said she was amused by the song choice given the conditions, and remarked: "How can they sing with their tongues in their cheeks?"
They were later treated to an excerpt from the ballet Swan Lake performed by students from the Royal Ballet School, which is based in Richmond Park.