London 2012: Greek Olympic torch honour for London man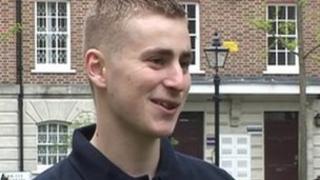 A man from London has spoken of his excitement at being the first UK resident to run with the Olympic torch after it is lit in Greece.
Seven years ago Alexandros Loukos travelled to Singapore as a young ambassador to help the Olympic bid.
Mr Loukos, 19, from Newham, has been chosen to take the second leg of the relay in Greece.
He will carry the torch for 200m after it is lit in Olympia on 10 May, before a short relay round Greece.
The flame will be handed over to the London Games organisers in the Panathenaic Stadium, Athens, in an hour-long evening ceremony on 17 May.
It will be flown to RNAS Culdrose in Cornwall on 18 May in a gold-liveried British Airways aircraft, flight number BA 2012.
The UK relay begins the following morning at Land's End and ends at the Olympic Stadium in Stratford, on 27 July.
Mr Loukos, an apprentice at an electrical firm, is of Greek descent.
He said: "It's a real privilege and honour, especially the Greek side of things. It's where it all started, in Olympia.
"It's a moment of history and it's been done for thousands of years."
Mr Loukos added: "The Olympics have grown as part of me.
"I still live in Newham and I've seen the changes in Newham - I've seen the changes in London as well."
The BBC will be providing continuous coverage of the Olympic torch relay online.