Bike and foot journeys in London rewarded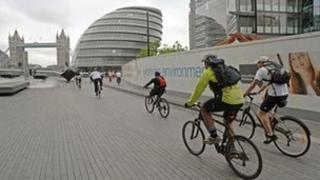 An incentive scheme has been launched to reward people for walking and cycling in London.
The re:route scheme lets people download a mobile app to collect points for journeys made by bike or on foot.
These can then be redeemed against offers and discounts from a range of companies including Marks and Spencer, Planet Organic and Champneys.
It is hoped the plan will reduce congestion and pollution and boost fitness in the capital.
More than 100 short journeys on the Tube are thought to be faster if undertaken on foot.
Ben Plowden, director of planning for TfL surface transport, said: "More people cycling and walking will help to reduce congestion on our roads and on our busy public transport network.
"An initiative like re:route is a great way to help TfL achieve these goals.
"We're particularly excited about the potential for this app to motivate people to cycle and walk during the London 2012 Games, when London's roads and public transport network will be at their busiest."