London 2012: Ambulance service in Olympics training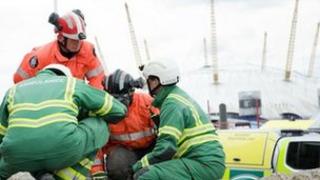 Ambulance staff from across the country have joined forces in London this weekend to test their response to incidents ahead of the 2012 Games
Exercise Amber was hosted by the London Ambulance Service (LAS) and held at the service's Olympics deployment centre in east London.
The police, fire brigade and Royal National Lifeboat Institution were also involved in the exercises.
LAS chief Peter Bradley said: "This has all gone well."
He added: "We are confident that we are going to be able to play our part to make the Games a big success."
The scenarios included patients on a boat on the River Thames, and others needing treatment at the top of scaffolding and rescuing from under rubble.
Until recent years, ambulance staff were not easily able to attend casualties in these types of situations, but extra training and developments in technology means that treatment can now start more quickly and before the patient is moved.
Mr Bradley said: "We will have around 440 staff dedicated to the Games, and about half of these will be from other ambulance services across the country.
"Some of those who will be involved have been here to work with us over the last few days so that we can test the processes that we intend to use to deploy staff during the Games themselves."