'Iron' Boris ends Livingstone's political career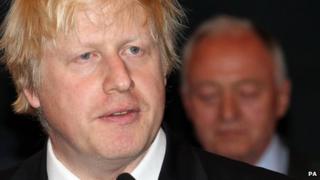 It was bad enough having a family holiday ruined by the summer riots but Boris Johnson's winter break also seemed to come at a cost.
While he was skiing with his family in Italy over new year, his deadly rival stole a march on the chilly streets of the capital.
To mark the introduction of another round of above-inflation fare rises on London's transport system, Ken Livingstone and supporters leafleted commuters outside stations.
His pledge to cut - and then freeze - fares seemed to make an immediate impact. A poll suggested for the first time that he had edged ahead of the Tory incumbent.
Reports surfaced of a big wobble in the Boris campaign team which had been set up before Christmas, separate but to run in parallel with his City Hall administration until polling day.
If there had been any doubt before, they knew there was a fight on.
Some wiser heads counselled that if that was all that Ken had, there was nothing too much to worry about.
And sure enough the bounce from the fare rise proved short-lived.
But it remained a promise potentially fatal to the Johnson re-election bid which was to absorb enormous energy to address.
The 2012 mayoral election campaign was dominated by debates on numbers - Tube fares, police strength, affordable housing starts - which occurred with relentless frequency on TV news programmes and at hustings.
'Broken record'
Perhaps it was their over-airing in the end which reduced their toxicity.
The campaign never became a focus or comparison of policy, but any hopes Livingstone had that he would win on the basis of detailed costings and help for the poorest were soon dented by revelations about his tax arrangements.
During a gruelling campaign, Boris Johnson demonstrated a hitherto unrecognised iron discipline.
Guided by self-denying ordinance and sticking limpet-like to the plan crafted by his dynamic campaign guru Lynton Crosby, new suits appeared, the shirt was tucked in and the hair was neat and often flattened.
Rhetorical flourishes were kept to a minimum. His cautious, repetitive responses to TV interviews out on the trail were sometimes so robotic that passers-by were prompted to comment.
"You're like a broken record," said one.
The level of control was immense. Journalists often struggled to establish what he was doing on any given day, learning of public visits via Twitter after they had happened.
The mask slipped on ever so few occasions, with one four-letter rant at Livingstone in a lift, out of sight, and one just a little more visible - directed straight into a BBC camera.
But if the style was unusual, it did prove effective at protecting the incumbent and his poll lead.
So too did constant attacks on Livingstone and the rapid rebuttal of his claims. Taken together it sometimes managed to suck oxygen from Labour's campaign.
That task was made the easier by almost universal support for Johnson in the media, and in particular, from London's Evening Standard. That may actually have proved more damaging this time.
There was a greater degree of subtlety and less obvious raw invective, but the impression was relentless.
But for Livingstone once again, a painful truth was exposed: enemies gained, stances adopted, conflict pursued over a lifetime of political activism combined to bring him down.
Tax questions
He believed London could return to him out of gratitude, relief or desperation, but was unable to create a fresh and distinctive narrative to make that possible.
It may have taken one question-mark over his tax transparency to revive all kinds of animosity which reminded voters why they had moved against him four years ago.
More than a million votes garnered in defeat last time appear to have made it hard for him to give up the dream of City Hall. The support was still out there, wasn't it?
Officials still appreciated his competence as an administrator and decision-maker, didn't they? So much more to give?
But no longer able to cast himself as the outsider speaking truth unto the evil of the establishment, he was a challenger who could not escape the impression he wanted to roll back time.
His weapons of wit and mastery of details, once regarded by some as deadly, had their effect dulled by an adversary more than capable of responding with both.
Livingstone announced his apparent retirement from frontline politics in his speech on Friday night, saying "this will be my last election".
In the vote for the London Assembly, the Conservatives lost two fairly high-profile figures -controversial fire chief Brian Coleman and deputy-mayor for communities Richard Barnes - but the party's vote share was sufficient to give them the necessary nine members to get four more years of Johnson budgets past the Assembly.
Those documents will make interesting reading, with funding for police indicated to dry up and police numbers likely, say some, to "fall off a cliff" once the Olympics are done.
Relationship with PM
Fares look set to continue to increase by above inflation if transport managers are to be given the funds for investment they have been promised, unless the government achieves a reconciliation with the notion of subsidy.
In the short-term, the focus will be on the Olympics, though it is unlikely one particular mayoral project - the cable car over the Thames - will be ready in time.
There may be changes in style, with Guto Harri - Johnson's friend and director of communications - moving on, reportedly to join News International.
He was admired for the way he projected his boss' image in the national media, but was felt to have found it difficult to establish positive relationships with the corps closely watching City Hall.
To freshen up the team, it is possible Johnson may move his policing deputy Kit Malthouse to a new economic post.
It has not taken long for people to start raising concerns that a second Johnson term will be dominated - even distorted - by his plans for his next career move, and will be seen through the prism of his relationship with David Cameron.
Cameron does not find himself in an overly strong position.
But faced by the option of the burning building and jumping into the arms of Boris Johnson, he may take a good long hard look at the smoke-filled room and decide there must be another way down.