How the meter ran out for Brian Coleman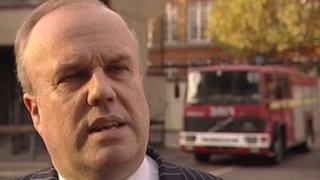 There is no more money in his meter; Brian Coleman's time on the London Assembly has run out.
One of the key causes appears to be inherently local, but one which will nonetheless resonate with voters across the capital.
Despite parking being a concern of local councils and not the Assembly, it is an issue which has been seen as indicative of Mr Coleman's approach.
After 12 years at City Hall, this campaign has led one of the Conservatives' highest profile names in London politics becoming one of its biggest casualties.
Mr Coleman's role in London does go on; he still holds a seat on Barnet Council and is the Cabinet Member for the Environment.
That portfolio, though, seems to have been significant in his downfall.
It includes oversight of parking matters in the borough and that has resonated with voters.
Over the last few months, changes have seen conventional meters replaced with "pay-by-phone" technology and new prices that many feel have sky-rocketed, as well as restrictions introduced on many previously unregulated spaces.
Speaking to locals over the last few months, there has been a clear and growing sense of anger within the borough at these changes. That anger has been largely focused on Brian Coleman.
One Conservative source within Barnet Council admitted as much, telling BBC London that it was "the one matter which kept coming up on the doorstep" as activists tried to canvass support for their candidate.
There is, the source added, a feeling that this was the one issue that had made the difference, and that is despite the Assembly seat being one that represents not just Barnet, but also Camden.
'Angry residents'
Barnet's residents have grown frustrated with what they perceive as the difficulties in parking within the borough.
One local resident decided to take matters into his own hands.
He set up a Facebook campaign to try to "get back control of parking in Barnet".
Eliot Pollak said he did it because "Coleman simply didn't cut the mustard, and angry residents have had enough of this man and his parking policies".
Many small traders have complained that the new parking regime has had a direct and negative impact on their fortunes.
Yossi Cohen owns B Kosher, a small kosher supermarket on Brent Street, Hendon, which is a typical suburban high street full of small shops that need all the help they can get to stay afloat.
Mr Cohen said: "Before, people didn't mind paying 30p for parking to pop into the store."
However, now that the minimum charge is £1, "it's not worth it if they were just coming in for a loaf of bread or a box of eggs".
He also said many of his customers have had difficulty with the new technology.
The Labour victor in Barnet & Camden is Andrew Dismore, the former MP for Hendon, which itself lies within the London Borough of Barnet, had highlighted parking during his campaign.
'Up for grabs'
Alison Moore, the leader of the Labour opposition on Barnet Council, was closely involved in Mr Dismore's campaign and says the issue of parking was "indicative" of Brian Coleman's approach.
She says it showed up "how arrogant and out of touch he has been with the local community".
Pointing to what she says was Mr Coleman's absence from the campaign trail in Camden, Ms Moore said that the Barnet side of the constituency therefore carried more weight in this election.
Parking, Ms Moore said, is important to a lot of people and was an issue that cut across the political spectrum.
Mr Coleman has also lost his position as chair of the London Fire and Emergency Planning Authority (LFEPA), a role that came with his status as an Assembly member.
It is likely that the vice-chair Richard Tracey, who retained his Assembly seat for Merton and Wandsworth, will take over until LFEPA holds its annual meeting in June.
Mr Coleman, who didn't want to comment when asked what had gone wrong with his campaign, may sense a way back.
The mayor can handpick two appointees to LFEPA and a City Hall source said "everything is still up for grabs" with a raft of appointments to be made in the coming days.
In Barnet, there will now be renewed optimism for the future with the hope that parking policy can be changed.