'Bionic' woman will not get medal for London Marathon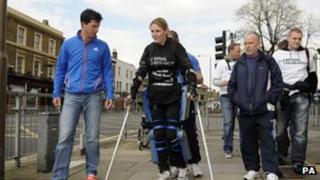 A paralysed woman who is the first woman to walk the London Marathon in a "bionic" suit will not receive a medal when she finishes the challenge.
Claire Lomas, 32 from Eye Kettleby, Leicestershire, has taken 12 days to get to Canary Wharf.
She is expected to finish on Tuesday. However, organisers have said she would not appear in the official results.
A spokesperson for the race said competitors must finish the 26.2-mile (42km) course on the same day.
Ms Lomas was paralysed from the chest down in a horse-riding accident in 2007.
She has already achieved her fund-raising target of £50,000 for the Spinal Research Charity.
Celebrities including TV presenter Gabby Logan and her husband, former international rugby player Kenny, as well as sport stars Tim Henman and Kelly Holmes have showed their support.
The £43,000 suit enables people with lower-limb paralysis to stand, walk and climb stairs through motion sensors and an onboard computer system.
A shift in the wearer's balance, indicating their desire to take, for example, a step forward, triggers the suit to mimic the response that the joints would have if they were not paralysed.
A London Marathon spokeswoman said the charity was contacted before the race to inform them of the policy on late finishers.
She added it was for practical reasons, as the timing system had been dismantled and there was no way of verifying that the competitor had finished.