Arrests over Occupy London Stock Exchange camp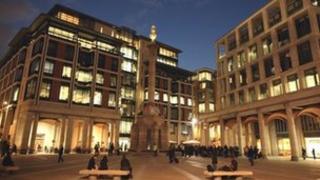 Police have arrested five people after a group of Occupy London protesters set up a temporary camp outside the London Stock Exchange.
Between 50 and 100 people moved into Paternoster Square with tents and supplies from around 19:00 BST on Tuesday.
But they were forced to leave by City of London officers just hours later.
Campaign group Occupy London said it had set up tents following May Day demonstrations in the capital.
It comes more than six months after members of Occupy London were prevented from occupying the square in heart of the City of London so pitched tents outside St Paul's Cathedral.
In February, police and bailiffs evicted the protesters, who oppose corporate greed, from the tent city they had set up around the cathedral after they lost a High Court case against the City of London Corporation.
Goal 'fulfilled'
But Tuesday evening's demonstration was much more short-lived despite Occupy saying that protesters had "fulfilled" a goal.
"This was something we have wanted to do on 15 October and we have finally done it," a campaign group spokesman said.
"This is a force that will not be stopped."
An injunction is in place making it illegal to stage protests in Paternoster Square.
Around 30 to 40 police officers were dispatched to the site and formed a semi-circle around the area, telling protesters they had 30 minutes to leave.
A City of London Police spokesman said all the demonstrators had been dispersed by just after midnight and officers had arrested three men and two women on suspicion of breaching section 14 of the public order act.
There was no violence during the occupation, the spokesman added.