London 2012: Legal bid over Olympics flats missile plan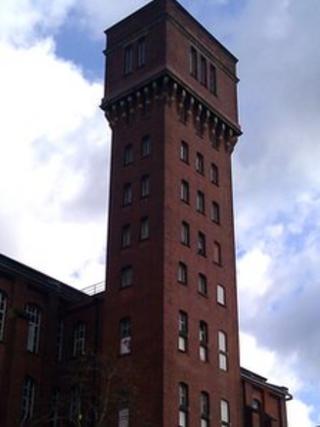 An east London resident wants to take legal action after his apartment complex was earmarked for the use of surface-to-air missiles during the Olympics.
Brian Whelan is challenging the management company of Bow Quarter in Bow after residents were told a missile system could be put on a water tower.
Lawyers for Little Apple Holdings said they could not comment.
The Ministry of Defence (MoD) said it wanted to "engage" with the residents.
An MoD spokesman said there were legal statutes in place which mean installations of this type can be made in the interests of national security.
The water tower at Bow Quarter in Fairfield Road has been identified as the "only suitable site in the area" for the high-velocity missile system, according to leaflets delivered to the estate's 700 residents on Saturday.
The top of the tower is flat and offers a view of the sky above the Olympic Park.
Opposition 'galvanized'
"Similar capabilities have been made available at every recent Games," said the leaflet.
Mr Whelan, a journalist, said that his challenge would be based on how the decision was made to give the MoD permission, and whether Little Apple Holdings was in a position to make the decision without consulting leaseholders and tenants.
He said: "They [the MoD] probably should have thought about the viability of putting missiles on people's homes.
"It's blown up in their face, to excuse the pun."
He suggested that an aerial position for missiles should have been built into the Olympic Park scheme, rather than using residential property.
He added that residents from the Bow Quarter opposing the plan would be holding a public meeting, attended by supporters from Greenwich, and that opposition was being "galvanized".
The MoD spokesman said that discussions had been ongoing with the police, the local authority and the owners of the building for six months.
He added that the department would prefer to "engage" with residents.
Later, a member of the armed forces will be on site to answer questions. There is also a meeting planned for Saturday.
Mr Whelan maintained that the leaflet delivered on Saturday was the first residents had heard of the scheme.
Hewitsons, the law firm working on behalf of Little Apple Holdings, said no comment could be made and all enquiries should be referred to the MoD.