Warning over rise in London's toxic caterpillar population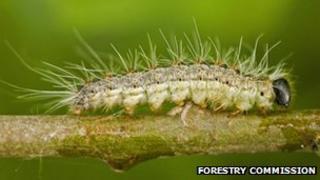 An invasive species of moth caterpillar that can cause allergic reactions has continued to spread through London, prompting a fresh warning to residents.
The oak processionary caterpillars become more of a health risk in May in the final stages before becoming moths.
Each insect is covered in thousands of toxic hairs, which can cause irritation to eyes and throats and skin rashes.
In 2007, the Forestry Commission collected and destroyed 708 nests. The figure rose to 4,410 in 2011.
The Forestry Commission, health authorities and affected boroughs are attempting to contain the growing outbreak.
'Painful rash'
The caterpillars are likely to have come to the UK as eggs on imported trees from Europe.
The poisonous hairs can be carried on the wind and are left in the caterpillars' silken, web-like nests, which they make in oak trees.
The London outbreak area is divided into two zones. The "core outbreak area" covers Brent, Ealing, Hammersmith and Fulham, Hounslow, and Richmond.
Dr Brian McCloskey, director of the Health Protection Agency in London, said: "We strongly advise people not to touch or approach the caterpillars or their nests because of the health risks caused by the toxin-containing hairs.
"Anyone who experiences an itchy or painful skin rash or a sore throat and irritated eyes after being near oak trees in these areas should consult their GP or NHS Direct."
A six mile (10m) "buffer zone" around the core area was put in place in March 2011.
It include parts of Barnet, Harrow, Hillingdon, Camden, Westminster, Kensington and Chelsea, Lambeth, Wandsworth, Merton, Kingston upon Thames, Sutton, Croydon, Southwark, City of London, Islington, and Haringey.
Forestry Commission inspectors will survey for infestations in the buffer zone and take steps to ensure they are tackled.
A spokesman for the Forestry Commission said people should report sightings of the caterpillars so they can be removed by specially trained operatives in safety gear and incinerated.