Mayoral election: Unemployment on Occupation Road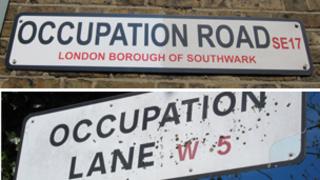 Occupation Lane in leafiest Ealing. Occupation Road in gritty Elephant and Castle. Same name, two very different streets.
But with jobs a top electoral issue, which mayoral candidate do denizens of our handily-named streets trust to create occupations?
A human being must have occupation, if he or she is not to become a nuisance to the world. So said the 20th century crime writer Dorothy L. Sayers.
But jobs are in short supply. The Office of National Statistics says 240,000 people claim Jobseeker's Allowance in London.
And in a recent Ipsos Mori poll, 59% of respondents cited jobs and the economy as the top issue.
Occupation Road, Southwark, is a typical inner city area - the sort of place Ken Livingstone needs to woo to reclaim City Hall.
The surrounding streets are vibrant and multicultural, while Occupation Road itself is an old industrial street of warehouses.
'Lost job'
First impressions are not promising.
"Business is very bad," said a morose Jon Parwany from behind the counter of his fried chicken shop, at the end of Occupation Road. "People have no money.
"I used to have a guy who spent £2 every day - now he comes once a week."
"I lost my job in health and social care," chips in customer Vyan Edwards, 48.
"I've sent in hundreds of applications and got nothing.
"I want to work, I don't want to sign on - I've always worked to support my children."
But neither of them know who to vote for.
"I keep going over it but I can't decide," said Ms Edwards. "I'm a lastminute.com voter!"
Similarly undecided is Rone Auret of wholesale jewellery company Big Metal. Her tale of woe is already becoming familiar.
"Business is definitely slower," she said. "We are scaling down, with less people employed."
Yet there is money here. In a car park sit two brand new Bentleys.
And at Andy Knight Ltd, which builds advertising sets, business is good with orders coming from across the world.
The firm says it may hire new staff, but who will owner Andy Knight vote for to boost business?
"I don't want to answer that question."
'No trust'
No such quibbles from Franklin Miller, a pork pie hat-wearing West Indian gentleman in his 60s who lives nearby.
"I've voted Labour all my life," he said. "And I will vote for Mr Livingstone because I don't trust the Conservatives to get us out of this mess."
Mr Livingstone says he will boost the economy by increasing investment in London and cutting transport fares.
If the evidence on Occupation Road is anything to go by, something needs to be done.
Apart from Andy Knight, the only other place doing a brisk business is Walworth Police Station at the end of the street. Punters are queuing out of the door.
"The crime is too bad here," as Mr Parwany put it. "It puts people off. We deliver and one of our drivers has been beaten up twice."
Touching down in south Ealing feels like stepping into another city altogether.
The streets are tree-lined and life proceeds at an altogether more sedate pace.
Recession? What recession?
But in the near-distance are the shiny towers of hi-tech companies including GlaxoSmithKline and Sega.
These are exactly the sort of firms the next mayor needs to attract in droves to reorientate London's economy toward the private sector and away from over-reliance on finance.
Occupation Lane almost feels like it is in an English village, with a peaceful graveyard on one side and gardens on the other.
It opens on to a high street where it is a case of: Recession? What recession?
"We are doing very well," said Rich Lancaster, 29, assistant manager at the Ealing Park Tavern.
"Every week we have more customers.
"We've got big head offices of Sky, Barratt Homes, Mercedes, Audi nearby - they're big companies with big budgets."
The tavern employs a whopping 30 staff and shows no signs of slowing down.
And its a similarly positive story at Bill Bunn Motorcyles Ltd, a small garage.
"We have not been affected by this so-called recession," said Mr Bunn.
"Things actually seem to be better than before."
Mr Bunn has three staff and a lad who comes in regularly on an apprenticeship.
'Long hours'
Occupations are in the offing at Occupation Lane, but there is no doubting Mr Bunn's political colour.
"I will be voting for Boris," he said.
So is it Boris's economic policies? The current mayor says he will cut waste at City Hall, put £445 back in Londoners' pockets by freezing council tax and create 200,000 new jobs over four years.
Actually, no. For Mr Bunn it is more a case of long suspicions over Labour's attitude to business.
"I grew up with problems caused by unions, who were close to Labour," he said.
"When you're in charge you have to sort that out.
"I'm the kind of person who wants to work long hours and make a business work, even if you don't have much money at the start. That's closer to the Conservative side of things."
Just off the other end of Occupation Lane lies a vast Mercedes showroom. Dozens of glittering new cars are dotted about - and business is booming here too.
Customers sit reading Conde Nast Traveller magazines, a cash delivery man makes a visit, and a junior member of staff rocks up with an armful of freshly laundered shirts - not washed at home more cheaply.
The sales manager is so busy it is 20 minutes before he can speak to the BBC.
And when he does, it is to announce: "I'm sorry, but everything has to go through our press office."
But a picture tells a thousand words - and jobs are all over the place here.
With two days to go, the mayoral race remains almost neck-and-neck.
But if whoever becomes the next mayor of London wants to help the city through the economic malaise, they would do well to recall another of a great British writer's most famous titles.
A Tale of Two Cities.