Tottenham Court Road 'bomb threat' suspect charged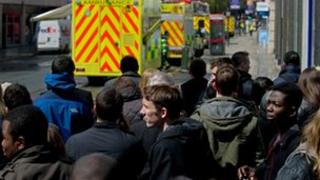 The Metropolitan Police have charged a man with possession of a weapon, false imprisonment and making a bomb hoax after a siege in central London.
Michael Green, 48, from Stevenage, Hertfordshire, was arrested on Friday after the incident, during which parts of Tottenham Court Road were evacuated.
Scotland Yard put a 1,000ft cordon in place around the scene of the incident.
Mr Green has been remanded in custody and will appear at Highbury Corner Magistrates' Court on Monday.
The whole of Tottenham Court Road was closed and Goodge Street and Warren Street Tube stations were closed as a precaution, because of the incident.
Detective Chief Inspector Raffaele D'Orsi, of Camden police, said Friday's events were "extremely rare".
He added: "I would like to thank the general public and local business community for the support they provided to my officers in dealing with these matters so expeditiously.
"Finally I can confirm it is all back to business as usual in Tottenham Court Road and the surrounding area."