Bakerloo line Tube suspension caused by 'expanded grout'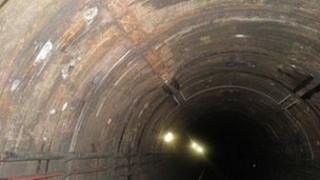 The bulge which caused part of the Bakerloo line to be suspended on Thursday was caused by grouting which expanded after maintenance work.
A train hit the bulge in Thursday morning's rush hour, causing the line to be suspended between Elephant & Castle and Piccadilly Circus.
Transport for London said the line was reopened at about 10:00 BST.
Maintenance workers on three lines are currently on strike but the Bakerloo Line is not one of the affected lines.