How have the London riots affected the mayoral elections?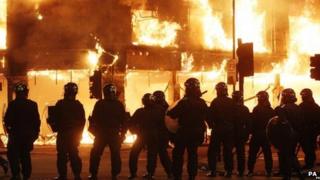 It was "the worst disorder in current memory" according to Scotland Yard while London Fire Brigade said fires had spread "almost pan-London" as it faced its busiest night in recent history.
The riots in the capital between 6 and 9 August have led to more than 1,000 people being sentenced for crimes including 591 burglaries, 199 instances of theft and 150 cases of violent disorder, according to latest Ministry of Justice (MoJ) figures.
"The riots were a wake-up call for everybody in London," current Conservative mayor and candidate Boris Johnson told BBC News.
"I think that they turned over a big fat rock and exposed lots of things that have been going on in society for a long time."
But the other major candidates have been quick to criticise Mr Johnson's response to the rioting and looting.
One criticism is over the initial treatment of the family of Mark Duggan, who was shot by police on 4 August in Tottenham.
"When Mark Duggan was shot dead and the parents went to Tottenham police station, the mayor wasn't there, the deputy mayor wasn't there and the acting Met commissioner wasn't there," Labour candidate Ken Livingstone told BBC News.
"Anger then spilt over onto the streets."
Green Party candidate Jenny Jones said: "Not dealing with the family's grief as quickly as it could have been done was a terrible blunder."
Mr Johnson reflected: "There are important lessons to be learnt but I don't think anything condones the rioters or the thefts that took place."
A second criticism that has been levelled at Mr Johnson is that he was slow to respond to the initial disorder.
He was on holiday when trouble began on 6 August but cut it short when rioting spread across the capital.
Lib Dem candidate Brian Paddick told BBC News: "On the Sunday morning I would have been outside Scotland Yard with the acting commissioner surrounded by community leaders saying riots weren't acceptable."
'Shoulder to shoulder'
Ms Jones agreed the mayor "was too slow to respond" but accepted: "It's very easy to see with hindsight and very difficult to call when it's all happening."
Mr Johnson responded saying: "As soon as I got back I didn't spend my time in TV studios blaming the cuts.
"I stood shoulder to shoulder with the shopkeepers and the victims rather than trying to condone the rioters."
Meanwhile, Mr Paddick has warned that until certain action is taken, we may not have seen the last of rioting on London's streets.
He is critical of Mr Johnson's support of police "stop and search" arguing it has been disproportionately used against young black men and may increase resentment towards the Met.
"Unless the new mayor says there is a problem with stop and search and we make sure the commissioner deals with this, we are likely to have further riots," he told BBC News.
Labour candidate Ken Livingstone said: "Stop and search needs to be targeted and a situation where only 6% are arrested and fewer charged is a complete waste of time."
But Mr Johnson said: "We won't disband stop and search."
He added: "You've got to make sure we use it as a police tactic in order to bring knife-crime down."
In January, Met Commissioner Bernard-Hogan Howe said he wanted to see a fresh approach to the police tactic, ordering a radical overhaul of the policy in London.
"Mr Hogan-Howe has got it right in that he wants stop and search to be evidence-led and he doesn't want to see stop and search done insensitively," Mr Johnson said.
Given the strong opinions on how the riots were handled, it is unsurprising many of the candidates' policies have been influenced by the disorder and its aftermath.
'At risk'
Mr Johnson said he intended to "get people out of the cycle of criminality and that means education and opportunity".
"That's why we're going to introduce 250,000 more apprenticeships over the next four years," he said.
He added: "My job is to get the funds for London to help us regenerate areas hit by the riots."
Mr Livingstone said: "You've got to ensure our policing is more sensitive.
"Everywhere I go, officers talk about demoralisation in the Met.
"When I left office, police numbers were at their highest level, there was real confidence and crime was falling."
Mr Paddick has pledged to give extra powers to communities and to tackle gangs by "providing positive alternatives".
Ms Jones told BBC News: "Distrust in the police has been building. We need more women and ethnic minorities in the police - some positive discrimination."
A quarter of those brought before the courts in relation to London's riots were aged 10 to 17, with a further 26% aged 18 to 20, according to the MoJ.
A woman who works with "at risk" youths in Brixton, south London, told BBC News what she thought the next mayor should do to stop young people rioting again.
"We need to look inside homes and schools and we need investment in youth clubs," said Donna Sinclair, founder of charity Options 4 Change.
"When a young man is thrown out of school aged 10, and still not in school at 15, he is not doing school hours but doing gang hours.
"We must have a strategy in the community to address what caused children to take to the streets," she added.