Tower Hamlets postal vote fraud claims referred to police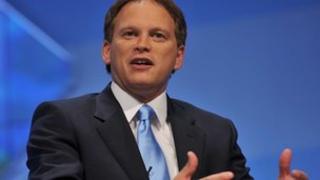 Allegations of postal voting fraud in east London have been passed to the Metropolitan Police, the Electoral Commission has said.
Six Labour councillors in Tower Hamlets reported "serious abuses" and "gross voting malpractice".
It prompted Local Government Minister Grant Shapps to suggest police could station officers at certain polling stations to prevent "intimidation".
Tower Hamlets said it worked to ensure the electoral register was accurate.
Scotland Yard confirmed it received a referral from the elections watchdog on Wednesday.
A spokesman said: "We are seeking further information which will then be assessed."
He added that two further allegations of "electoral irregularities" had been received but declined to supply more detail.
The Tower Hamlets councillors said they were concerned at the "unprecedented" number of households that had recently signed up for postal votes in the borough.
Close race
They said this was evident last week during the Spitalfields and Banglatown by-election.
The letter, received on Monday, said: "We are aware of instances where people who no longer live at an address are still being sent postal votes and their votes have been cast. We are also aware of instances where postal votes have been collected from voters."
It was signed by Helal Abbas, Khales Uddin Ahmed, Bill Turner, Rachael Saunders, Zenith Rahman and Anwar Khan.
A BBC Newsnight reporter said an investigation by the programme found electoral register information to be inaccurate, for example seven votes were cast from one household in Thursday's by-election but a resident at the property said only "three or four" people lived there.
With polls pointing to a close race between Boris Johnson and Ken Livingstone ahead of the vote for London mayor next Thursday, Mr Shapps told the BBC's The World at One it was important the result was not blighted by fraud.
"If the election outcome is marginal, then I think people will be extremely concerned it has taken so long for this issue in Tower Hamlets to be referred to the police," he said.
"This is obviously an operational decision for the police, but I would imagine that they would be interested in looking at whether there should be a policeman stationed at perhaps each of the sensitive polling stations in Tower Hamlets in order to make sure that there is no intimidation."
'Mobile' population
The Electoral Commission's director of electoral administration, Andrew Scallan, insisted it had referred the matter to the police as soon as it received the letter from Tower Hamlets.
While he said there was no evidence of large-scale fraud, he acknowledged that the system would be more secure once individual voter registration was in place.
"Until electoral registration comes in there is that potential but there has been no evidence of large scale cases of fraud since 2007," he told The World at One.
A spokeswoman for Tower Hamlets Council said: "We work to the full extent of our powers to ensure the electoral register is as accurate as possible - in fact we conducted extra visits to over 4,700 electors in the days before the register closed.
"As a result we removed 890 electors from the list as they had moved on."
She said it was important not to confuse fraudulent activity with a register that changes by up to 20 per cent a month because of a population that was "highly mobile", with a high proportion of students and restaurant workers.