London Underground workers start 72-hour strike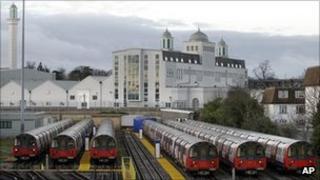 A 72-hour strike by London Underground (LU) staff has begun, in a row over pensions and benefits.
Workers who maintain and upgrade three lines on the Tube walked out from 16:00 BST.
The RMT union said the action would disrupt services across the system, but LU said there would not be any significant impact.
The union wants employees of Tube Lines to join Transport for London's pension scheme.
Talks aimed at resolving the dispute, involving workers on the Jubilee, Northern and Piccadilly lines, ended without agreement at the conciliation service Acas last week.
Jon Lamonte, Tube Lines' chief executive, said: "Since becoming part of Transport for London all Tube Lines' employees have kept their existing terms and conditions of employment.
"Should this industrial action go ahead, we expect it to have no significant effect on Tube services.
"We have well-practised contingency plans in place to ensure that the essential maintenance required on the railway can either go ahead as planned or can be rearranged.
"We do not and will not put passenger or staff safety at risk."
'Pig-headed'
Union members also want to receive travel concessions, which the union said other people who worked for Transport for London received.
RMT General Secretary Bob Crow said a four-to-one vote in favour of strikes was a "massive mandate".
"This dispute is about justice and about ensuring that all groups of staff under the umbrella of LU receive the same rights and benefits.
"We have gone through all the negotiating channels on both these issues but Tube Lines has refused to budge and refused to engage in meaningful talks.
"That pig-headed approach has raised the temperature on the shop floor and is reflected in this result.
"Tube Lines is now a wholly owned subsidiary of Transport for London and there is simply no excuse for refusing to give equal pension and pass rights," he said.