Shakespeare play for passengers to Blackfriars South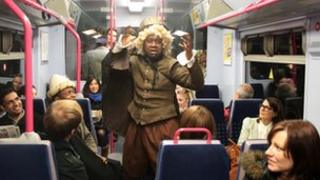 A Shakespeare play has been performed on trains taking commuters to a new railway station on London's South Bank.
The travelling performances were part of celebrations marking the opening of Blackfriars South.
The station complex spans the Thames and includes the renovated Blackfriars London Underground station.
Actors from Two Gents Productions performed adapted scenes from Two Gentleman of Verona for passengers during their morning commute.
Each scene of the comedy lasted between two and four minutes so they fitted between stops on the route.
Masquerading as station staff, comedy hip hop group Abandoman added to the morning's cultural commute by performing Shakespeare-inspired improvised raps as surprised passengers arrived at platforms.
'Concentration of culture'
Commuter Charlotte Frost said: "I stopped to check my train time when station staff approached me asking me if I needed help. I didn't realise it was Abandoman - they improvised a brilliant song for me on the spot. Great commute to work in this morning."
The South Bank is home to several of London's cultural hot spots including Shakespeare's Globe theatre where Two Gents will be performing next month and the Southbank Centre which is currently hosting the Udderbelly Festival featuring Abandoman.
Laurence Whitbourn from Network Rail, who is in charge of the Blackfriars project, said: "We wanted to make the daily grind of the commute a bit more fun and demonstrate the kind of entertainment that is now directly accessible from Blackfriars."
Alan Bishop, co-chair of the South Bank and Bankside Cultural Quarter, said the South Bank had the largest concentration of culture anywhere in the world.
It attracts "more than 22m people promenading along the south of the river each year", he said.
Blackfriars South will be fully operational in the summer, when more than 150,000 passengers are expected to use it from June to August.